Written by Steve Cannon. 2/18/2022.
That's right, I said it. It's time for conservatives to break the law.
I'm sure you've all been paying attention to the news. You see time and time again how we conservatives are getting screwed left and right. Enough! It's time we start playing by the rules the liberals are playing by, in other words, the law is optional. Let me give you a few examples, then you can decide if we're doing enough to save our country:
The president's job is to enforce the laws Congress enacted and to protect the God-given rights of the American citizen. Let's see what President Biden and Democrats of all shapes and sizes have done thus far: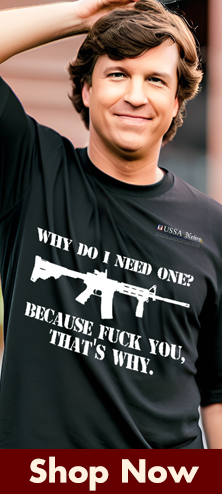 Our southern border is wide open to illegal aliens when, by law, it should be closed. This law is ignored by President Biden and most Democrats. Hence the term, "Illegal alien," something Democrats keep trying to change.
Illegal aliens are illegally relocated in the middle of the night. Conservatives call this, "human trafficking." This law is encouraged to be broken by President Biden and his ilk.
The Fed is holding hundreds of peaceful protesters in jail (from the January 6th protest) for over a year now without even being charged with a crime! This is very illegal! Imagine, innocent Americans have been in jail for over a year for exercising their God-given right to protest! Peaceful protesters jailed for no reason! These are political prisoners. Democrats lie and call this an insurrection. Illegal!
The federal government, states, cities, schools, et al., is mandating that all people wear useless masks, lest you lose your livelihood, or worse. Mandates are not laws. Mandates are illegal orders given by tyrants or dictators that were never voted upon or passed by any representative.
President Biden is about to enter a war with Russia which is illegal. Only Congress can declare war, not the President. Calling it a "Police Action" does not change the fact that soldiers are in harm's way without approval from Congress. This is also illegal.
Our elections have been stolen by illegal mandates. No one voted for mail-in voting and other last-minute voting changes. Democrats just mandated that, illegally, to get what they wanted.
Smash and grabs are tolerated and no longer prosecuted, even though laws are on the books that the people voted for. This is also illegal. Force the prosecutors and police to do their jobs. If they won't, film and shame them constantly!
Congressman Eric Swalwell (D) of California literally slept with a Chinese spy for two years. Tell me that's not illegal.
Hillary Clinton and her cronies (FBI, CIA, etc.) spied on President Trump while in office. Clearly illegal. And I'm not even gonna mention her 33,000 other crimes that she wasn't arrested for. What a joke.
The IRS targeted conservatives and Tea Party groups and admitted doing so. Targeting a group based on political affiliation is a crime.
Former NY governor, Andrew Cuomo, killed thousands of nursing home residents with his illegal mandates.
Countless governors and mayors just stole our rights and created illegal mandates out of thin air.
I could go on. The Great Reset is coming and has "illegal" written all over it. The point is, how much more shit will you take?!
If Democrats and liberals can decide that breaking or ignoring the law is okay, why can't we? It's time we stand up and push back. I'm not advocating for crime, but we're smart enough to push back when we see something is wrong. It's time to get in their faces and let them know we're stronger than they are, by far!
In other words, if they can ignore the law, so can we, and then some. It's high time we did just that. Ignore their illegal mandates.
Find an illegal alien and shame him and then call the cops or bring him to the police station. If the cops do nothing, do it again, and again, and again! Shame the illegal alien, shame the cops. Film them and shame them. Flood the bureaucrats with work the law says they must do as voted on by the people! In the process, demand to know what law says they don't have to do their jobs.
Stop wearing your masks! If you get flak, tell the person masks do nothing, then ask them to name the law which requires it. Explain that mandates are not laws. Mandates come from tyrants, this is what we left when we formed this country, tyranny from an English king.
Get creative with your taxes. I'll be damned if every Democrat is honest with the IRS.
When you see someone do something illegal, call them out. Film them, shame them! Do something!
Go to your voting station and film them count the vote! Don't let them get away with anything!
See police trying to break up a peaceful protest? Push back, don't push first. We have the numbers! A peaceful protest is legal, regardless of what they or their politician bosses say. Just because they don't like it doesn't make it illegal or even wrong.
Damn the Democrats. If they're gonna break the law, so are we. And we're gonna come hard! Now stand up and push back!