NEW YORK CITY, NY – A 23-year-old man who was previously arrested for a gun charge back in September of 2020 was arrested again earlier in June for allegedly shooting his girlfriend. 
The suspect, now facing attempted murder charges, was reportedly out on bail for the gun charge during the time of the latest alleged offense. 
Brooklyn man arrested nine months ago on gun charges back in handcuffs for shooting his girlfriend: police sources

Kevin Hor, 23, was charged with attempted murder and assault for the gunfire at the 24-year-old girlfriend's East New York apartment.https://t.co/qnZCH9aWOx

— New York Daily News (@NYDailyNews) June 19, 2021
On June 19th, police arrested arrested 23-year-old Kevin Hor under suspicion of non-fatally shooting his 24-year-old girlfriend at her apartment at approximately 2:00 a.m. that same day. 
Officials say that the couple had arrived at the victim's apartment located off of Jerome Street after having attended a family party when the victim's roommate heard a single gunshot coming from the victim's bedroom. 
Hor reportedly told police that the couple were "playing" with a .22 pistol when the weapon accidentally went off, causing a bullet to enter the victim's chest and exit through her back. 
The victim was reportedly transported to Brookdale University Hospital, where she was last reported as still being in critical condition after having undergone surgery. 
Police sources revealed that the .22 caliber pistol recovered from the scene was of the same caliber that police found in Hor's vehicle during a September, 2020 arrest. 
Back on September 7th, 2020, police had pulled Hor over for allegedly running a red light on Brooklyn Avenue. At the time, Hor also had two active warrants for his arrest related to misdemeanor charges. 
Hor was later charged with gun and marijuana possession with regard to that 2020 arrest. 
Following that 2020 arrest, Hor, the owner of a local beauty supply shop in Brooklyn, reportedly posted bail which was set at $15,000 at the time.
Sources say that Hor was actively working on getting a plea deal relating to the September arrest prior to his June 19th arrest. 
Hor has since been charged with attempted murder and assault. 
This is an ongoing investigation. 
Please follow Law Enforcement Today as we continue to gather further details on this developing case. 
Do you want to join our private family of first responders and supporters?  Get unprecedented access to some of the most powerful stories that the media refuses to show you.  Proceeds get reinvested into having active, retired and wounded officers, their families and supporters tell more of these stories.  Click to check it out.
In other cases regarding individuals arrested while out on bail, two men in separate cases in Chicago were recently booked under new felony charges while out on pretrial release. 
Law Enforcement Today reported on these cases earlier in June. Here's that previous report. 
_
CHICAGO, IL – Two separate but recent shootings incident in Chicago reportedly involved suspects who were out on bail at the time of the offenses.
Police say one of the suspects was out on bail for a felony aggravated assault case, whereas the other was out on a felony false identification case.
Two men, charged in separate shootings, are the 23rd and 24th persons accused of shooting, trying to shoot, or killing someone while on bail for felony cases in Chicago this year.https://t.co/xXZzMZAB8m

— CWBChicago (@CWBChicago) June 14, 2021
The first of the two cases involved 30-year-old Lekeon Gibson, who police say non-fatally shot a man four times on May 30th.
Authorities allege that the victim was on a 4-wheeler near the 900 block of South Trumbull at approximately 1:00 p.m. when a Dodge Durango, where Gibson was allegedly a passenger inside of, began to follow the victim.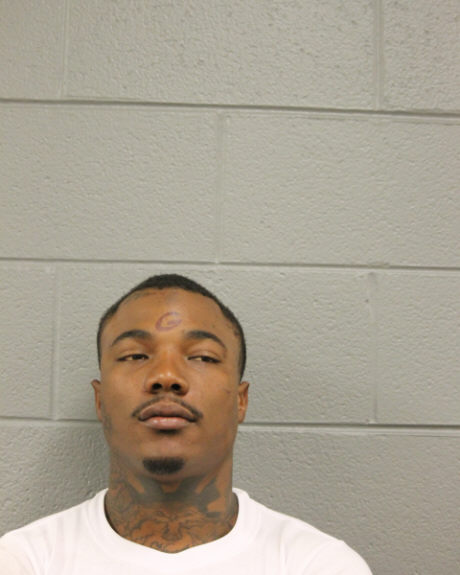 Officials say that Gibson shot the victim on the 4-wheeler four times, with the victim having been struck in his testicles, buttocks, and knee. When police had arrived at the scene, the driver of the Dodge sped away which and a Gibson had bailed from the vehicle and fled on foot through a park.
Police eventually located Gibson near a stairwell, with a handgun also being recovered where police reportedly saw Gibson briefly stop running during the pursuit. The driver of the Dodge was reportedly able to evade authorities.
During the time of the incident, Gibson -who has four prior felony convictions – was out on his own recognizance after appearing before Judge Arthur Willis for an aggravated assault case in October of 2020 for allegedly threatening a Chicago Police sergeant.
Gibson has since been charged with aggravated battery by discharging a firearm, which Judge Mary Marubio ordered Gibson be held without bail for violating the terms of his release in the aggravated assault case.
The second case involves 27-year-old Eric Jones, who authorities say he non-fatally shot a man during the evening of June 4th.
Authorities obtained video evidence that allegedly shows Jones yelling at a group of people along the 2100 block of South Michigan at approximately 11:08 p.m. before he fired into the crowd. Prosecutors say that a 30-year-old man fell to the ground and that Jones continued to shoot the victim.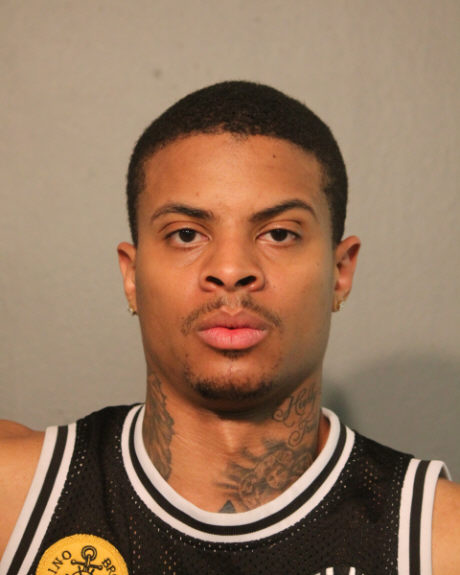 The victim reportedly suffered a shattered thigh bone and a severed artery during the shooting.
Following the incident, a vehicle and foot pursuit ensued, and Jones was taken into custody. Police were said to have recovered a firearm from the vehicle Jones was in as well as another firearm along the path where police pursued him on foot.
Prosecutors say that Jones attempted to give police a fake name and ID when taking him into custody on June 4th.
At the time of the shooting incident, Jones was reportedly AWOL on a felony false identification case and also has a pending case out of Michigan for conducting as criminal enterprise. Jones previously spent time in prison for charges of escaping electronic monitoring, aggravated unlawful use of a weapon, and possession of an altered ID.
Jones has since been charged with aggravated battery by discharging a firearm, aggravated battery causing great bodily harm, and possessing a fraudulent ID.
Judge Susana Ortiz ordered Jones to be held without bail for violating the terms of his bond in the previous false identification case.
_
Want to make sure you never miss a story from Law Enforcement Today?  With so much "stuff" happening in the world on social media, it's easy for things to get lost.  
The post Man out on bail for firearm charge in gun-controlled NYC arrested again for shooting girlfriend appeared first on Law Enforcement Today.
Click this link for the original source of this article.
Author: Gregory Hoyt
---
This content is courtesy of, and owned and copyrighted by, https://www.lawenforcementtoday.com and its author. This content is made available by use of the public RSS feed offered by the host site and is used for educational purposes only. If you are the author or represent the host site and would like this content removed now and in the future, please contact USSANews.com using the email address in the Contact page found in the website menu.