This is the ultimate non story. I feel it is covering up a much bigger story or stories. For example, it lends more support to Miles Mathis' analysis of the fake assassination of Diana.  Read the Miles W Mathis analysis of the famous car crash in Paris. http://www.mileswmathis.com/diana.pdf
It is also providing a massive distraction at a time when a massive distraction is needed – to stop people from noticing the climbing rate of death since January 11th 2021 when the weapon 'vaccine' was launched in the UK.  See my other post about numbers of deaths published by the Office Of National Statistics before January 11th and since.
This post is about the 'Royal Flap'.  These paragraphs are extracts from Miles W Mathis' articles which cover his belief that Diana never died but was conveniently 'moved on' by agreement, and the assassination/accident in 1997 was a massive fake.  Here is Mathis' summary.
EXTRACT 1- According to the peculiar mainstream timeline, Diana allegedly
moved from Khan to Fayed in the same month. More indication of a fake. You don't get over "Mr.
Wonderful" that fast. Which indicates Diana was probably still with Khan after the faked death, having
never split from him. So that is probably where we can place her in late 1997. Khan was living in
London at the time (working at London Chest Hospital), so it would appear that Diana never left
London— or didn't go far. I am not saying she is still with him, since he remarried in 2006. But my
guess is that is where she was in late 1997. When they split and where she is now is anyone's guess……
EXTRACT 2 – Let us return to Rees-Jones. His injuries also don't match the story. We are told his face was
crushed, requiring total reconstruction using old photos as reference. 150 pieces of titanium were used
to hold the bones together. Nonetheless, his face never looked that bad, and was "nearly back to
normal with a year". Really? Does this look like someone who has had his face completely rebuilt
from photos?
Not to me. Here is what he looked like in his 20s:
Amazing that his face was crushed but his nose suffered no damage at all. His mouth suffered no
damage at all. His jaw was supposed to have required major reconstruction, but we see no sign of
damage. The only damage is slight, to his left eye. That could have been acquired before the crash,
during his time in the army.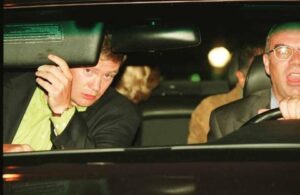 Also curious that we have pictures of the passengers just before the crash:
But that's just a continuation of the joke. The driver is making faces, and neither Diana nor Dodi can
be identified in any of them. Do you really think that was taken by paparazzi driving in front of them?
I say it is staged. Why? One, because I have never seen a windshield that clean. It is being shot
through by a bright flash, but we see not one speck of dust, not one bug splat, not one streak. Also,
look at the hood. The car is supposed to be a black Mercedes. It looks brownish to me. Here is one
from the same staged photo set:
EXTRACT 3 I found that at National Enquirer, sold as pictures just before the crash. Henri Paul, the driver, is
wearing the same clothes and the same glasses, and that is supposed to be Diana in the back. But
again, does that car look black to you? And look closely at Diana. What is blocking the view of her
face? It isn't the rearview mirror or the seat. It looks like she is wearing a half-helmet. Why?
Also note that Rees-Jones makes sure to turn his head away to his left in every single photo in the set.
Why? Because that hides the fact that he already has a scar over there.
Advance the clock 24 years and what could be more natural than Harry wanting his children to be near his mother's home?  Harry and Megan have moved to Bel Air and that must be where Diana now is – or at least nearby.
Run a long saga about Meghan being a bit bossy with the staff or whatever, but obviously the Diana fake death cannot be reversed, and the separation of his parents is a real factor is Harry's choices.  His real father is James Hewitt, of course.  Maybe he's in Los Angeles as well, and not dead as reported.
Harry wanting to live near his mother in LA (Belair) would clearly need a big cover story.  The timing of all the brouhaha is another thing.  Why is it hitting the worldwide headlines now when the world is engaged in a massive vaccine rollout?  The subject of the vaccine rollout I deal with in my other post on January 11th 2021 and why the vaccine launched on that date in the UK, and also the cover-up of the numbers of vaccine deaths.
https://news.amomama.com/226433-how-princess-diana-might-look-today-she.html
Click this link for the original source of this article.
Author: Tapestry
---
This content is courtesy of, and owned and copyrighted by, http://tapnewswire.com and its author. This content is made available by use of the public RSS feed offered by the host site and is used for educational purposes only. If you are the author or represent the host site and would like this content removed now and in the future, please contact USSANews.com using the email address in the Contact page found in the website menu.