Wyoming Rep. Liz Cheney is like the Brokeback GOP leader: she just can't quit Donald Trump. She is, in fact, obsessed with his very existence, and wants to erase Trump's legacy with the Republican Party forevermore.
GOP Congressional leaders have had enough of her fixation. As a result, on Wednesday morning Rep. Steve Scalise, the No. 2 Republican in the House, called for her ouster from leadership.
Later, Rep. Jim Jordan told host Pete Hegseth on "Fox News Primetime" that "the votes are there" to oust Liz Cheney from her post as House Republican Conference chair. He added that this would probably happen next Wednesday.
These comments by Jordan and Scalise came after House Minority Leader Kevin McCarthy was caught Tuesday on a hot mic saying "I've had it with her."
So what did Liz Cheney do in response to criticism from the House GOP's top leaders? Did she try to iron out differences, maybe sit down in a conference with them? Find a common goal, such as retaking the House and Senate in 2022?
Not a chance. Instead, she fired back in an op-ed that was published Wednesday evening in the Washington Post. Entitled The GOP is at a turning point. History is watching us, Cheney blasted Donald Trump in a first-paragraph broadside:
"In public statements again this week, former president Donald Trump has repeated his claims that the 2020 election was a fraud and was stolen."
She also blamed Trump for the February 6 riot in the Capitol, and warned that he could spark a riot once again.
"Trump repeats these words now with full knowledge that exactly this type of language provoked violence on Jan. 6. And, as the Justice Department and multiple federal judges have suggested, there is good reason to believe that Trump's language can provoke violence again."
Therefore. . .
"The Republican Party is at a turning point, and Republicans must decide whether we are going to choose truth and fidelity to the Constitution."
What does Liz Cheney then propose that will heal the GOP?
First of all, she wants Republicans to support the current Justice Department's criminal investigations of the February 6 event. She adds that these investigations should be "comprehensive and objective," which is absurd. Does Liz Cheney really expect a Justice Department under Joe Biden to be "objective?"
But, there's more. Cheney also called for a "bipartisan review by a commission" to conduct a 9/11-type investigation into the Capitol riots.
That's also preposterous. First of all, the February 6 event is nowhere near the magnitude of 9/11, and to compare it to that most awful day is to insult the memory of the 3,000 who perished. Secondly, Liz Cheney intentionally ignores rioting by Antifa and Black Lives Matter. In fact, she sweeps those under the rug.
"The Black Lives Matter and antifa violence of last summer was illegal and reprehensible, but it is a different problem with a different solution."
Different problem with a different solution? And what would that be? Never mind — the Orange Man didn't have anything to do with the more widespread violence caused by BLM and Antifa. So that doesn't matter as much.
Finally, Liz Cheney insulted the legions of Republican voters who remain loyal to Donald Trump.
"Finally, we Republicans need to stand for genuinely conservative principles, and steer away from the dangerous and anti-democratic Trump cult of personality."
Never mind that recent polling suggests that Republican love for Trump may be gradually slipping anyway. That would make sense, I think, considering that Trump no longer is President. Plus, Republicans are also focusing on Joe Biden's ineptitude, along with winning in 2022. It seems to be a natural progression. But if you want Trump to run again in 2024, well, Liz Cheney thinks you're a cultist.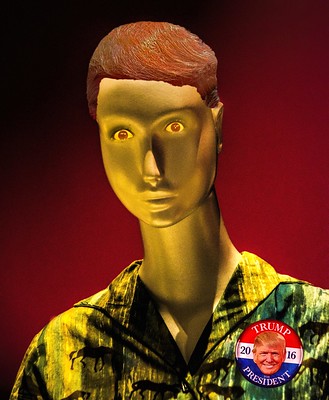 Russ Seidel/flickr/CC BY-NC-SA 2.0.
But while GOP House members may have had it up to their eyeballs with Liz Cheney's refusal to play nice, Cheney does have her supporters. Like Meghan McCain, co-host of The View and daughter of the late Trump-hating Sen. John McCain.
Meghan promises that there will be "consequences" if the GOP ousts Liz.
Throwing around descriptions of Trump as "Cheeto Jesus" and "a sausage fest of MAGA," McCain declared she was "absolutely furious."
.@MeghanMcCain: "The message that's being sent by the highest member of Republicans in Congress is that women like me and Liz Cheney, who refuse to bend the knee to President Trump but still remain loyal Republicans — we don't have a place in this party." pic.twitter.com/9U8XqlaYUZ

— The View (@TheView) May 5, 2021
Are you trembling in fear? Yeah, me neither. After all, you know perfectly well that if Meghan's last name wasn't McCain, she wouldn't have a national platform. As a matter of fact, neither would Liz Cheney, who also ran on her father's name. So did NY Gov. Andrew Cuomo, making them both members of the Lucky Sperm Club. As a result, writes Eliana Johnson of the Washington Free Beacon, "they seem to have learned less about what it takes to develop and maintain professional friendships and alliances."
Cheney is not willing to bend even a little to members of the MAGA wing of the GOP, nor is she willing to relinquish her status as an elite Republican. But the party has moved on. While Donald Trump may or may not run again in 2024, he has steered the ship of the GOP towards populism. The Republican Party has become a haven for the blue collar worker, the middle class, the Average Joes and Janes. Much like the Tea Party of 2009, today's GOP populists are looking forward to turning the Ship of State away from the dangers of the Left.
Even Senate Minority Leader Mitch McConnell — no friend of Donald Trump — recognizes this. He told Fox News last week:
"We're looking to the future, not the past. And if you want to see the future of the Republican Party, watch [Sen.] Tim Scott's response to President Biden last night. … We're not preoccupied with the past but looking forward."
The future might not belong to Donald Trump, but it does belong to people like Senators Tim Scott and Josh Hawley, former Secretary of State Mike Pompeo, and FL Gov. Ron DeSantis — just to name a few. But it doesn't belong to Liz Cheney, especially after she destroyed whatever goodwill she had with the GOP after that Washington Post opinion piece. She just hasn't realized it yet.
Featured image: Brand X Studio/used by permission.
The post The Empire Strikes Back: Liz Cheney Blasts the GOP appeared first on Victory Girls Blog.
Click this link for the original source of this article.
Author: Kim Hirsch
---
This content is courtesy of, and owned and copyrighted by, https://victorygirlsblog.com and its author. This content is made available by use of the public RSS feed offered by the host site and is used for educational purposes only. If you are the author or represent the host site and would like this content removed now and in the future, please contact USSANews.com using the email address in the Contact page found in the website menu.