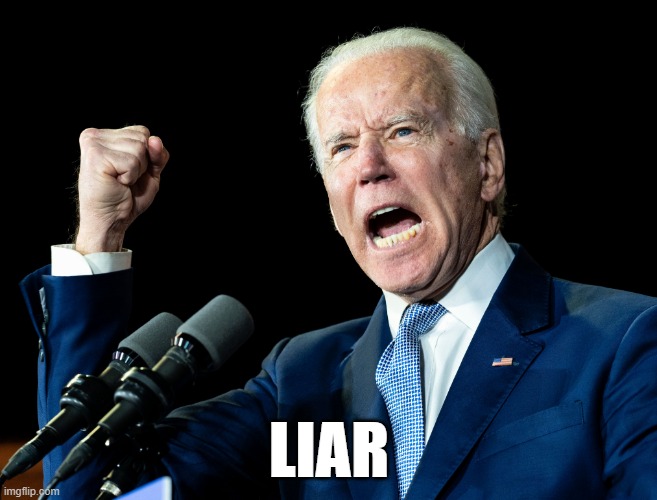 That is the message Joe Biden is repeatedly putting out there.
If lies were manure Joe Biden would be able to make the entire Sahara desert arable. He is a liar of gigantic proportions and he is an a**hole.
He continues to assert the lie that the new Georgia voting laws are a return to Jim Crow "on steroids." The other day he stated that states are backsliding into Jim Crow:
"[P]arts of our country are backsliding. The days of Jim Crow, passing laws that harken back to the era of poll taxes, when Black people were made to guess how many beans – how many jelly beans in a jar, or count the number of bubbles in a bar of soap before they could cast their ballot."
He didn't say "might." He said "are." He said this to leave people with the impression that Georgia is making black people correctly guess the number of beans in a jar or guess the number of bubbles in a bar of soap before they are allowed to vote.
This is bullsh*t on a galactic scale and he continues to spew this nonsense despite being awarded four Pinocchios from the Washington Post. Glenn Kessler:
"On Election Day in Georgia, polling places are open from 7 a.m. to 7 p.m., and if you are in line by 7 p.m., you are allowed to cast your ballot. Nothing in the new law changes those rules," he wrote. "However, the law did make some changes to early voting. But experts say the net effect was to expand the opportunities to vote for most Georgians, not limit them."
Biden's deceit did spark Major League Baseball from majority black Atlanta to majority lily white Denver even though Colorado's voting laws are stricter than Georgia's.
Colorado is also more restrictive when it comes to early voting — polling stations must open 15 days before the election through Election Day, excluding Sundays, according to Ballotpedia.
Hell, Delaware's voting laws are more restrictive than Georgia's, but you'd never know that from the DNC owned media.
Black owned businesses will suffer the most from the All Star game move:
Small-business owners in Georgia are criticizing Major League Baseball commissioner Rob Manfred for his decision to move the league's All-Star Game from Atlanta to Denver, saying the decision will cost them nearly $100 million.

Darrell Anderson, the black owner of a limousine business in Atlanta, told the Washington Free Beacon Manfred's decision will hurt the community and worsen the economic damage from the pandemic.

"As the owner of a transportation service in Atlanta, I know firsthand how badly our community wanted the All-Star Game played here," Anderson said. "The $100 million in revenue to this area was going to be the opportunity for all of us to recover some of the losses that we incurred during the pandemic.  Now, not only is that revenue gone, we may lose even more because conventions that were planned for Atlanta are now up in the air thanks to this decision by the MLB."
Yet democrats and idiot celebrities celebrate. Congratulations!
Each time Biden goes on one of these benders I think back to last June when he said this:
"Look, the presidency is a big job. Nobody will get everything right. And I won't either. But I promise you this. I won't traffic in fear and division. I won't fan the flames of hate. I will seek to heal the racial wounds that have long plagued this country — not use them for political gain."
I thought Clinton and Obama were full of crap. Biden makes them look like Diogenes.
The post Biden: Blacks in Georgia must correctly guess the number of beans in a jar if they want to vote appeared first on Flopping Aces.
Click this link for the original source of this article.
Author: DrJohn
---
This content is courtesy of, and owned and copyrighted by, http://www.floppingaces.net and its author. This content is made available by use of the public RSS feed offered by the host site and is used for educational purposes only. If you are the author or represent the host site and would like this content removed now and in the future, please contact USSANews.com using the email address in the Contact page found in the website menu.