LEXINGTON, KY– Over the course of the Black Lives Matter and Antifa riots that began in May of 2020, rioters have attempted to use officers personal information against them as in intimidation tactic.
Now, on Friday, February 19th, a Kentucky police officer was fired for allegedly giving a Black Lives Matter organizer information about his fellow officers that were working protests in order to "insult, intimidate and harass" them. 
The Lexington Herold-Leader reported that Lexington police Officer Jervis Middleton was relieved of his duties following a unanimous vote by the Lexington-Fayette Urban County Council after a nine-hour hearing and two hours of closed deliberations.
Police officer in Kentucky was fired Friday over allegations that he gave a Black Lives Matter organizer information about other officers working protests that could be used to "insult, intimidate and harass."https://t.co/WXRXqefXyE

— Adam Milstein (@AdamMilstein) February 21, 2021
According to the Herald-Leader, Keith Horn, a lawyer for the city of Lexington, said:
"Officer Middleton's conduct during a highly stressful and potentially vulnerable time during the history of our community — the most significant policing event in our community in 20 years — demonstrates that he should no longer be a police officer," 
The recommendation for Middleton's firing came from Lexington Police Chief Lawrence Weathers and an internal police disciplinary board over allegations that he violated several department policies for sharing department information and for allegedly lying about it.
It is reported that Middleton had also recently been demoted for a separate complaint related to accusations he used department resources to look up information about a woman he had once been romantically involved.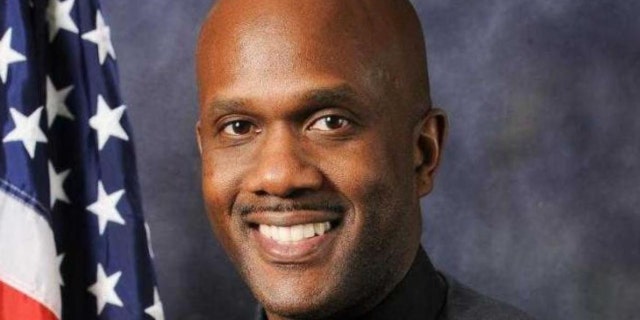 Officer Jervis Middleton, who had been on the force since 2007, challenged his recommended firing. (Lexington Police Department)
Weathers said:
"I felt like the discipline he received last time should have been a message to him and allow him to come back and become the officer that I know he can be," 
He went on to say:
"After this, I just can't see him coming back. To me, it was a violation of trust and a violation of the position of a police officer. He was supposed to protect the public, but he should also protect his fellow officers."
Middleton originally denied the allegations that were brought against him that he shared officers personal information with a friend, BLM leader Sarah Williams.
According to the city attorney, he later admitted to the allegations when he was shown text messages obtained through a search warrant.  
Middleton's lawyers argued he shouldn't be fired because in their view the information he shared with Williams didn't jeopardize officers' safety and it should be considered free speech, Fox News reported.
Middleton, who is black, also claimed he had been racially discriminated against at the department by other officers but the department had not investigated his claims, WLKY-TV of Louisville reported.
Middleton reportedly gave several examples of the racial discrimination he endured that went undisciplined, including alleging that another officer had called him a "token boy" during a police event. 
BLM infiltrating the police…https://t.co/xAOuKUpstr

— Comic Boss One (@comic_boss) February 21, 2021
Apparently there was confusion at the hearing over a disconnect when it comes to filing a formal complaint after the alleged racial discrimination, which resulted in the lack of investigation into the incident.
Chief Weathers, who is also black, stated that he will make the process for filing a complaint clear going forward. 
Despite the alleged racial allegations, Weathers stated that breaking the departments information-sharing policies was not justified. Weathers also added that race was not a factor in the recommendation to fire Middleton. 
The ACLU criticized the firing, saying that:
"Clear channels of communication and shared expectations make tense situations safer for police, protesters, and bystanders."
The advocacy organization said it was concerned that Middleton's firing came as people are calling for more transparency between police and the public, the Herald-Leader reported.
ACLU said in a statement:
"While Officer Middleton's actions may warrant some level of disciplinary action, it is particularly concerning he was more swiftly investigated and harshly punished for sharing non-critical information than officers who use excessive force against protesters or create the culture of racism and hostility Middleton reported to no avail," 
It is reported that officer disciplinary hearings are rare because officers usually accept the chief recommendation.
Do you want to join our private family of first responders and supporters?  Get unprecedented access to some of the most powerful stories that the media refuses to show you.  Proceeds get reinvested into having active, retired and wounded officers, their families and supporters tell more of these stories.  Click to check it out.
Rochester officers allowed to cover their name tags as protesters threaten their families
September 12, 2020
ROCHESTER, NY– Rochester Police have been the victims of slander and violence at the hands of protesters since the death of Daniel Prude in March. 
Things have gotten even further out of hand as protesters are now sharing officers personal information, and threatening their families. 
Rochester Police Department officers are now allowed to cover up their names on their uniforms in order to prevent protesters from learning their personal information.
Out of control left-wing protesters have been gathering officers names, researching their information, screaming out their home addresses, the names of their children and the schools they attend, and making threats among the crowd.
They have even gone as far as making taunting calls to their parents in front of them, in addition to sharing their personal information on social media. 
RPD Chief La'Ron Singletary said a statement, 
"The past couple of months officers names have been researched by protesters to put personal information out to the public, putting the safety of their families in jeopardy," 
He added:
"Officers have been allowed to remove their name tags in an effort to prevent their personal information from being spread on social media," 
On Thursday, September 10th, Bob Lonsberry, local radio host posted about this on Twitter saying:
"Peaceful protesters have stood outside the [Rochester] Public Safety Building, read an officer's name off his uniform, tracked him down on their phones, and called his parents to taunt them. Or held up the phone to show the officer his home address and threaten to come after him there."
Peaceful protesters have stood outside the #ROC Public Safety Building, read an officer's name off his uniform, tracked him down on their phones, and called his parents to taunt them. Or held up the phone to show the officer his home address and threaten to come after him there.

— Bob Lonsberry (@BobLonsberry) September 11, 2020
According to The Daily Wire, Singletary had his statement read by City Council Chief of Staff Robert Scanlon during a briefing with Democrat Mayor Lovely Warren and city council members on Wednesday. The police chief did not attend the meeting in person.
WHAM 1180 also reported on the actions of the protesters, saying:
City Council members questioning why Rochester Police Officers covered their names and sometimes badge numbers at the series of nightly protests were told it was for the officer's protection.
Chief Singletary says protesters are Googling officer names and spreading information about them and their families on social media. Deputy Chief Morabito says he has seen this happen in real time, with protesters calling family members of officers right in front of them and threatening to come to their homes. He says he personally gave his officers permission to cover their name tags.
_
Want to make sure you never miss a story from Law Enforcement Today? With so much "stuff" happening in the world on social media, it's easy for things to get lost.
Make sure you click "following" and then click "see first" so you don't miss a thing! (See image below.) Thanks for being a part of the LET family!
The post Not one of us: Officer fired for sharing info with Black Lives Matter protesters to 'insult and intimidate' cops appeared first on Law Enforcement Today.
Click this link for the original source of this article.
Author: K. Winters
---
This content is courtesy of, and owned and copyrighted by, https://www.lawenforcementtoday.com and its author. This content is made available by use of the public RSS feed offered by the host site and is used for educational purposes only. If you are the author or represent the host site and would like this content removed now and in the future, please contact USSANews.com using the email address in the Contact page found in the website menu.