HNewsWire: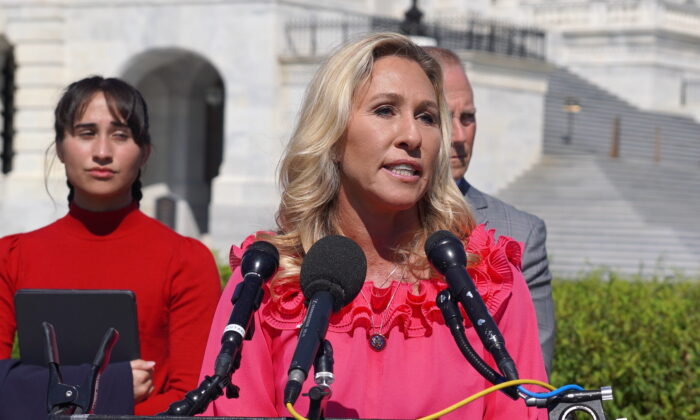 Twitter Restricts Marjorie Taylor Greene's Account Following 'Transgender Day of Vengeance' Post, Satan's Soldiers Twitter, Fake Book, and Evil Google are the enemies of the people! Stop playing their stupid, silly game. There is no such thing as trans. They concocted nonsense. Illness of the mind.
Since Musk's takeover, nothing has changed at Twitter.
Twitter has restricted the congressional account of Rep. Marjorie Taylor Greene (R-Ga.) after she shared a notice for an upcoming rally, called the "Transgender Day of Vengeance."
On her personal Twitter account, Greene shared a screenshot that showed how she is being banned for seven days for having violated Twitter's rules on "violent speech."
Congresswoman Green was attempting to make the public aware of this.
Everyone with common sense understands that ANTIFA and the BLM incite violence, riots, and looting. These organizations must be stopped at any cost, and Twitter's suspension of her account is just more censorship. This country will suffer irreparable harm as a result of social media.
Elon, what happened? I thought you said you'd put an end to censorship. Fire Irwin immediately or risk appearing hypocritical. It's time to call out insane and violent people who are clearly mentally ill and whose only response to those speaking the truth about such people is violence… It's time for decent, law-abiding citizens to take up the cause of justice… The next child could be yours, and the next victim of these vile, mentally ill people.
I've said it since the beginning: the entire "trans" movement is motivated solely by evil. They are now specifically targeting Christians, including children. This is squarely on the left and all of their useful idiots, particularly in the MSM.
Twitter is returning to its censorship roots. Twitter deletes the evidence because Marxist violent organizations want no trail of evidence and are unhappy with their own messaging. TikTok's libs are the same way. The same people who posted or supported the woke extreme left petitioned Twitter to suspend or shadow ban that account in order to remove or conceal evidence of their extreme and dangerous ideology.
Many of us suspected that Musk was not the "free speech" savior that some claimed he was. Don Surber, a conservative blogger, had his account suspended for posting the April 1st "Transgender Day of Vengeance" and remarking that it was April Fool's Day. One of the commenters there brought up Musk's transgender child. Musk is a forger of free speech.
Musk was simply lying about free speech on the platform. He has financial backers who assisted him in purchasing Twatter. These supporters are as awake as they come and deserve to be pampered. Tucker Carlson experienced the same thing when he aired his first video of the year on January 6. He boasted that neither Rupert Murdoch nor management interfered with him.
However, we never saw any additional videos from Carlson after Schamer spent 10 minutes repeatedly asking Murdoch to silence him, and he did not even address his failure to keep his promise to release more videos. He simply continued without explanation. That demonstrates the power of our Marxist shadow government's wealthy puppet masters.
The same sh*t, but a different Elite owner.
Musk was one of Schwab's Young Leaders, believes in global warming, and has been seen wearing clothing with Masonic phrases related to the New World Order. Musk believes in Universal Basic Income. He has shady ties to Dorsey, Brain, and others, and was previously linked to Epst3. He snubbed Trump and resigned from a special committee with him after Trump terminated the Paris Climate Accords.
Musk has a factory in Shanghai where workers were locked in during the epidemic, and the cobalt used for his precious batteries is mined by children, many of whom die or become permanently disabled while mining. Musk has stated that Americans are entitled and complacent, whereas Chinese people are intelligent and hardworking.
He has also assisted Ukraine.
Musk receives a large amount of government funding. And, in particular, he received substantial rocket subsidies from Obama. Musk's companies had received an estimated $4.9 billion in government assistance by 2015, and they have received more since. Remember when Trump said Musk was building rocket ships that would go nowhere? This is due to Musk's work on rockets for North Korea. Tesla reimburses employees who travel to have abortions. He was seen sitting with Rupert Murdoch at the Super Bowl.
Elon Musk had the opportunity to advocate for free speech. He didn't do it. He's just another imposter. Twitter is a sewer that is run by sewer rats. Is Elon revealing his true self? I've always wondered, "Can Musk and DeSantis be trusted?" At this point, I'm still unsure.
Greene possesses more guts than 98% of all Republicans combined.
Marjorie, thank you for standing up for America; you are a true hero!
Say hello to Granite Ridge Soapworks! Use our handmade soaps to take good care of your skin. Our premium natural ingredients work together to create a silky, creamy lather that hydrates your skin. Chemicals, such as sodium lauryl sulfate, phthalates, parabens, or detergents, are never used by us. To ensure quality, we make all of our soaps in modest quantities. Visit our Etsy store right away to give them a try and the attention your skin deserves. GraniteRidgeSoapworks: Because only the best will do for your skin.
Use the code HNEWS10 to receive 10% off your first purchase.
A Thrilling Ride
Every once in awhile, a book comes across your path that is impossible to put down. A Long Journey Home is not a casual book that you read in a week or earmark to complete at a later date. Once you begin, cancel your schedule, put your phone on silent, find a quiet place where you cannot be disturbed, and complete the journey. Click Here to Purchase on Amazon.com!
Last week HNewsWire explored the Old Testament prophecy in Ezekiel 38:18-23, which suggests that Russia will attack Israel on some future date. You can find …
The post Marjorie Taylor Greene's Twitter Account Has Been Restricted After 'Transgender Day of Vengeance' Post, The People's Enemies are Twitter, Fake Book, and Google! Mr. Musk, the Truth Should be Revealed. Twitter, Google, and Fake Book are NWO Propaganda Outlets.EVIL! appeared first on www.HNewsWire.com.
Click this link for the original source of this article.
Author: StevieRay Hansen
---
This content is courtesy of, and owned and copyrighted by, https://hnewswire.com and its author. This content is made available by use of the public RSS feed offered by the host site and is used for educational purposes only. If you are the author or represent the host site and would like this content removed now and in the future, please contact USSANews.com using the email address in the Contact page found in the website menu.