You the high tech conglomerates (HYPER-REPROBATES) chose to attack God's children (The Christians) you brought destruction upon yourselves and your high-tech corporations, it's amazing how wrong you can be when dumb down in biblical truth, God's word has survived the tyrants for thousands of years, yet you CEOs have missed the most important part of life, God's plan for humanity, enjoy
A Thrilling Ride!
Every once in awhile, a book comes across your path that is impossible to put down. A Long Journey Home is not a casual book that you read in a week or earmark to complete at a later date. Once you begin, cancel your schedule, put your phone on silent, find a quiet place where you cannot be disturbed, and complete the journey. Click Here to Purchase on Amazon.com!
Have a Market Anymore "The Lord Will Make the Pestilence Cling to You Until He Has Consumed You From the Land Where You Are Entering to Possess It, Australia, China "The Lord Will Smite You With Consumption and With Fever and With Inflammation and With Fiery Heat and With the Sword and With Blight and With Mildew, and They Will Pursue You Until You Perish.
Bio-weapon, "It's designed to cause permanent changes to the cell. To trick the cell into producing a non-human protein that has no benefit to that cell's health. The spike protein itself is toxic. … and causes mutation by inhibiting DNA repair."
"So if you are injecting something into people that causes their body to produce a mutagen, a toxin that prevents DNA repair, that is by definition causing harm to people. And injecting people with something that causes harm to them through a biologic mechanism: Well, that's pretty much the definition of a bio-weapon, right?"
Since its arrival in late November, the unquestionably mild Omicron strain of Covid-19 has sent daily new infections to record highs, while hospital admissions – and particularly deaths – have remained relatively low compared to the giant new denominator.
But it was only a matter of time before a new variant hit the scene. Like omicron, it appears this new variant originated in an African country  – Cameroon – after being isolated by scientists in southern France.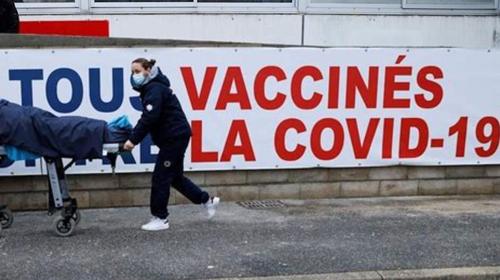 The first official case is reported to be a traveler from Cameroon, and it's now spreading in Southern France where at least 12 people have been infected with it, according to research published on medrvix.
To be clear – we know virtually nothing about this new strain aside from the fact that it exists. Nothing on severity, transmissibility, 'long covid', etc. We do know it's highly mutated from the original strain, much like Omicron. It's also too soon to tell if it will be classified as a 'variant of concern.'
In the medrvix preprint, which has yet to be peer-reviewed, experts from a French government-backed program said they had identified 46 mutations in the variant.
"SARS-CoV-2 variants have become a major virological, epidemiological and clinical concern, particularly with regard to the risk of escape from vaccine-induced immunity," the paper's authors wrote.
The scientists also postulated that the new variant was probably of "Cameroonian" origin. Readers can find the complete report below. The variant has been given the name B.1.640.2, and was first detected by experts at the IHU Mediterranee Infection Foundation in Marseille.
According to the paper, the scientists' analysis of the variant's genome revealed 46 mutations and "37 deletions resulting in 30 amino acid substitutions and 12 deletions. Fourteen 43 amino acid substitutions, including N501Y and E484K, and 9 deletions are located in the 44 spike protein."
Read the full report below:
2021.12.24.21268174v1.full on Scribd
New variants are discovered frequently, but most don't go on to become "variants of concern", like omicron, delta and beta. The WHO has assigned each variant of concern with a name from the Greek alphabet (the first was "alpha", the second "beta", while letters "Xi" and "Nu" have been skipped because they are "confusing", per the WHO).
Get This People:
The Book of Revelation describes the judgments of the apocalypse in terms of pestilence and plagues:
7 When he opened the fourth seal, I heard the voice of the fourth living creature say, "Come!" 8 And I looked, and behold, a pale horse! And its rider's name was Death, and Hades followed him. And they were given authority over a fourth of the earth, to kill with sword and with famine and with pestilence and by wild beasts of the earth. (Rev. 6:7-8)

15 Then I saw another sign in heaven, great and amazing, seven angels with seven plagues, which are the last, for with them the wrath of God is finished.  (Rev 15:15)
But, along with this terrifying judgment of the Law, we also see the Gospel expressed in an Intercessor who stands between us and the plagues.
Scientists Discover That One Big Assumption That Everyone Has Been Making About COVID-19 May Be Dead Wrong
Yes, those that have had COVID-19 do develop antibodies.
But two new scientific studies have discovered that those antibodies start to fade very, very quickly.
For example, a study that was recently conducted in China found that more than 90 percent of COVID-19 patients experience steep declines in COVID-19 antibodies "within 2 to 3 months"…
A new study from China showed that antibodies faded quickly in both asymptomatic and symptomatic COVID-19 patients during convalescence, raising questions about whether the illness leads to any lasting immunity to the virus afterward.
The study, which focused on 37 asymptomatic and 37 symptomatic patients, showed that more than 90% of both groups showed steep declines in levels of SARS-COV-2–specific immunoglobulin G (IgG) antibodies within 2 to 3 months after the onset of infection, according to a report published yesterday in Nature Medicine. Further, 40% of the asymptomatic group tested negative for IgG antibodies eight weeks after they were released from isolation.
And an extensive study conducted in Spain found that some patients who had initially successfully developed antibodies "no longer had antibodies weeks later"…
A large study from Spain showed that antibodies could disappear weeks after people have tested positive, causing some to question how possible it will be to attain herd immunity.
A study published in the medical journal Lancet showed 14% of people who tested positive for antibodies no longer had antibodies weeks later.
This is devastating news, and it has severe implications for vaccine development…
Such findings have implications for vaccine development since the efficacy of a vaccine hinges on the idea that a dose of weakened or dead virus can prompt your body to generate antibodies that protect you from future infection. If those antibodies are fleeting, a vaccine's protection would be transient too.
Short-lived antibodies also diminish the hopes of achieving widespread or permanent herd immunity.
If antibodies can fade in some patients within weeks, and if about everyone loses them after a few months, that would render any vaccine almost entirely useless.
And if these findings are confirmed, we can pretty much forget about ever achieving "herd immunity."
Instead, we are potentially facing a future in which COVID-19 will be with us permanently. People will need to understand that there is a possibility that they will be able to get infected repeatedly.
Sadly, there is evidence that this is already starting to happen for some patients. In a recent article for Vox, a doctor in Washington D.C. named D. Clay Ackerly shared that one of his patients got infected with COVID-19 again three months after being infected the first time…
"Wait. I can catch Covid twice?" my 50-year-old patient asked in disbelief. It was the beginning of July, and he had just tested positive for SARS-CoV-2, the virus that causes Covid-19, for a second time — three months after a previous infection.
And in that same article, Dr. Ackerly explained that other doctors are starting to see similar cases….
Recent reports and conversations with physician colleagues suggest my patient is not alone. Two patients in New Jersey, for instance, appear to have contracted Covid-19 a second time almost two months after fully recovering from their first infection. Daniel Griffin, a physician and researcher at Columbia in New York, recently described a case of presumed reinfection on the This Week in Virology podcast.
If you stop and think about what it means, it will chill you to the core.
It means that COVID-19 is never going away.
And every time you get it, the more severe it is likely to be. Each time it will do even more permanent damage to your system until it finally finishes you off.
I sincerely wish that what I was telling you was not valid. I do not want to worry about a potentially deadly virus every time I leave my house.
But sticking our heads in the sand and pretending that everything is going to be okay somehow is not going to do us any good.
Denial Of GOD can kill you.
A 37-year-old Ohio man named Richard Rose initially thought that all of the fuss about COVID-19 was just "hype," and he angrily insisted that he would never buy a mask. The following is what he posted on Facebook on April 28…
'Let make this clear,' he wrote, in a post that was shared 10,000 times.
'I'm not buying a * mask. I've made it this far by not buying into that damn hype.'
Sadly, he eventually got infected, and COVID-19 killed him on July 3…
Richard Rose, a 37-year-old man from Port Clinton, Ohio, recently died from coronavirus after slamming "hype" about the pandemic on Facebook.
Rose's family told Cleveland CBS affiliate 19 News the U.S. Army veteran died at home on July 3, just three days after testing positive for COVID-19.
He was a healthy 37-year-old man.
If the virus can take him down, it could potentially take just about anyone down.
So please take this pandemic seriously.
Over the past week, we have seen daily numbers soar to levels that we have never seen before, and some experts believe that the numbers will continue to go higher as we approach the end of the year.
And as I just discussed above, if those that have had the virus quickly lose immunity, there will be nothing to stop this virus from sweeping across the globe year after year.
A lot more scientific studies need to be conducted, and hopefully, those additional studies will show that the studies done in China and Spain were utterly wrong.
But at this point, the outlook for fighting this virus is exceedingly bleak, and scientists assure us that it is just a matter of time before an even worse pandemic comes along.
Edit
"The LORD will make the pestilence cling to you until He has consumed you from the land where you are entering to possess it.
Pestilence: An Enormous Part of America Is About to Be Locked Down, Especially Those Blue States and the Red States That Have Rhino Directors Will Endure Ungodly, Barbaric Lock-downs. Satan Soldiers Recognize This New Virus (COVID 19 Variant) As an Excuse to Permanently Deliver Humanity to the New World Order, Yoked, Ungodly Living Arrangements for the People, Look at China, Look at How They Treat Their People. It's About to Happen in the United States of America. You Can Be Grateful to Google, the Elitist, Bill Gates and Group and the List of Satan Soldiers Is Lengthy…. New York governor warns of Covid rise as US braces for Omicron arrival Kathy Hochul orders elective operations to be postponed until at least 15 January in state where two-thirds are fully vaccinated As Pestilence Continues to Sweep the Planet, Humanity Continues to Jab God…
HNewsWire Live Stream 24/7 News UpDates and World Events In an Effort to Be Accepted by a Filthy Sin Ravage World… There Are No Vaccines as of Yet, Where Is…
A Thrilling Ride!
Every once in awhile, a book comes across your path that is impossible to put down. A Long Journey Home is not a casual book that you read in a week or earmark to complete at a later date. Once you begin, cancel your schedule, put your phone on silent, find a quiet place where you cannot be disturbed, and complete the journey. Click Here to Purchase on Amazon.com!
HNewsWire Live Stream 24/7 News UpDates and World Events In an Effort to Be Accepted by a Filthy Sin Ravage World… There Are No Vaccines as of Yet, Where Is…
The post New COVID-19 Variant With 46 Mutations Discovered in Southern France — God Said He Would Confuse the Proud/ UN-Godly, COVID 19 Virus Has the Best Scientists Doctors Confused, Oh Bill Gates Does Not Have a Market Anymore appeared first on www.HNewsWire.com.
Click this link for the original source of this article.
Author: StevieRay Hansen
---
This content is courtesy of, and owned and copyrighted by, https://hnewswire.com and its author. This content is made available by use of the public RSS feed offered by the host site and is used for educational purposes only. If you are the author or represent the host site and would like this content removed now and in the future, please contact USSANews.com using the email address in the Contact page found in the website menu.