A bat-wielding punk was captured on video as he beat a bicyclist unconscious on a New York street. More shocking than his violent actions, however, is how nearly every bystander reacted.
Forty-six-year-old Ashanti Robinson was captured on cellphone video around 5:30 p.m. on a Wednesday as he launched a heinous attack on an unnamed 54-year-old victim, who was riding his bike in the vicinity of Flatbush and Parkside Avenues in Brooklyn, New York. Wielding a bat, Robinson began mercilessly beating the bicyclist until the man fell unconscious on the street corner.
Police believe the attack, like others that had also recently occurred in New York City, was unprovoked, leaving many shocked that such malice exists. It's the actions of the bystanders, however, that have really troubled some viewers. Before we get to that, have a look at the troubling footage, but be forewarned, it may be difficult to watch.
Brooklyn: Flatbush Avenue & Parkside Avenue, person #CaughtOnCamera beating up a biker with a bat until he falls to the ground unconscious. pic.twitter.com/3PXr06gCNc

— NYC Scoop (@NY_Scoop) February 18, 2021
As can be seen in the footage, the 54-year-old victim was on his bicycle when the unprovoked attack occurred. Showing no mercy, the attacker — later identified as Ashanti Robinson — repeatedly struck the bicyclist with a bat, beating him unconscious. At one point, the victim raises his arm to defend himself, but it was all in vain as Robinson ruthlessly continued to bring the bat down on him.
Sadly, except for one person who stepped in to prevent further injury, every other bystander simply watched or just walked on by like nothing was happening. Even when the one man stepped in to stop the attack, the assailant tried a few more times to take additional swings without success.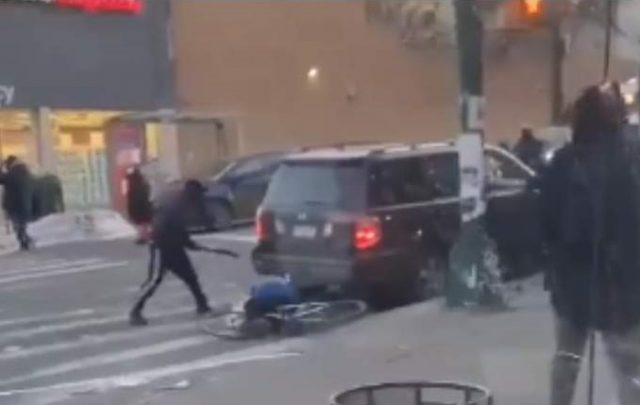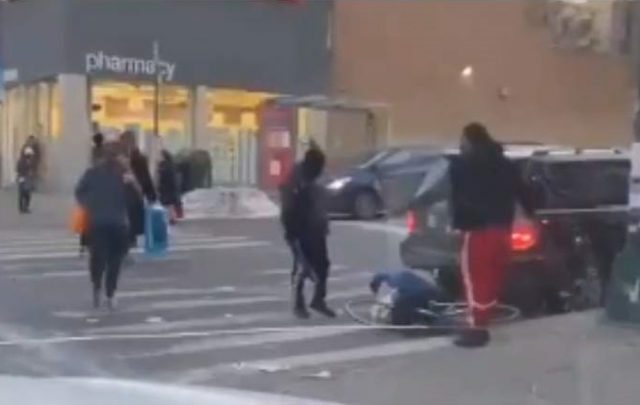 Perhaps even more shocking, The Blaze reports that NYPD officers did respond to the scene, but not because someone called them. "Soon NYPD officers spotted a crowd, walked over, and witnesses identified a suspect who was standing nearby," the outlet reported. Although the attacker had been warded off by the single good Samaritan, he didn't get away.
According to New York Daily News, after walloping the bicyclist with a baseball bat as the victim laid helplessly on the ground, Ashanti Robinson was taken into custody and charged with assault, menacing, and weapons possession in the vicious attack in Prospect Lefferts Gardens.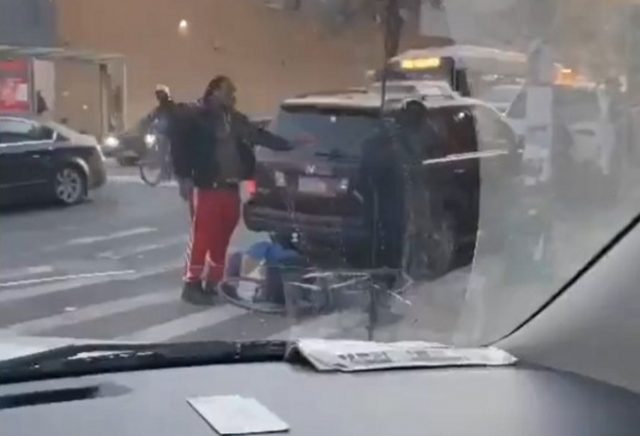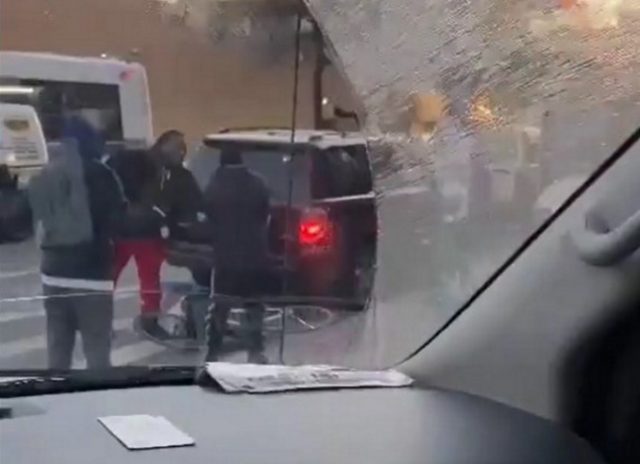 As for the victim, who was eventually identified as Pierre Francillon, he was taken to Kings County Hospital in critical but stable condition with cuts and swelling to the head, the NY Post reported. He was still unconscious the following day, and although he was unable to be interviewed by police, authorities said they believe the victim and the suspect are strangers, and authorities ruled the attack as "random."
A law enforcement source told NY Daily News the savage assault came after Francillon turned down panhandler Robinson's request for money. Sadly, it's far from the first attack of its kind in New York City nor is it the first time Ashanti Robinson has been on the wrong side of the law. Robinson has 14 prior arrests that are sealed as well as one unsealed arrest in 2014 for criminal possession of a weapon, the Post reported, citing police sources.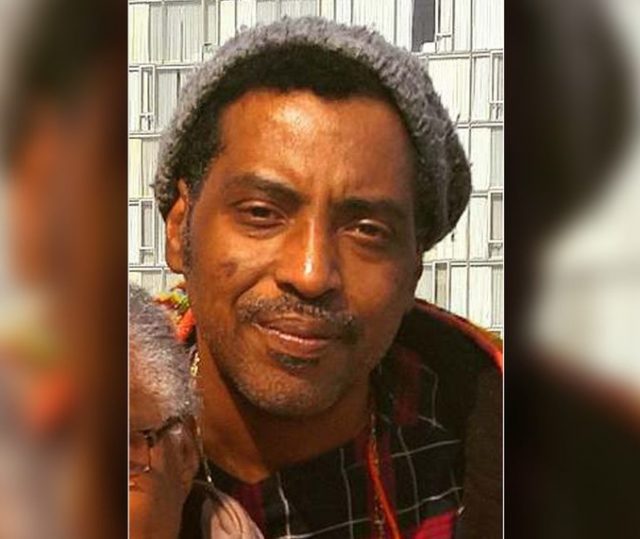 In May 2014, when Robinson was arrested for criminal possession of a weapon, police say he had two 15-inch swords hanging from his belt while walking down Flatbush Avenue near Martense Street, according to ABC 7, which added, "That arrest happened less than a mile from the bat attack."
After footage of Robinson's bat attack was posted on social media, a number of Twitter uses commented, expressing their anger over both the attack and the lack of response from nearly all of the bystanders, who did nothing about it. "[P]eople are just walking by or recording with their phones. Brooklyn strong, my a**," one such user wrote. "This is why you don't give up your guns."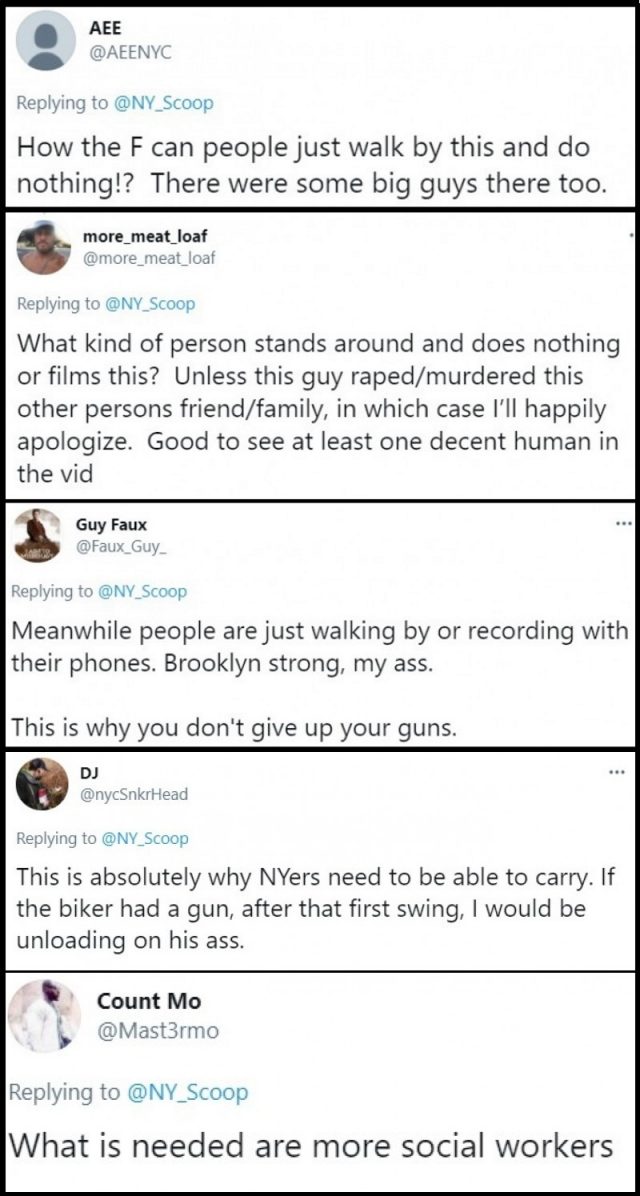 Other social media users shared similar sentiments about the incident:
"How the F can people just walk by this and do nothing!?" another commenter asked, pointing out that, "There were some big guys there, too." Yet another commenter wondered, "What kind of person stands around and does nothing or films this?" before adding, "Good to see at least one decent human in the vid."

"This is absolutely why NYers need to be able to carry," other commented, offering their observation. "If the biker had a gun, after that first swing, I would be unloading on his a**," he added, but another seemed to disagree with that assessment, suggesting, "What is needed are more social workers."
Regardless of where you stand on the "what we need" debate — whether you feel that's more legally armed citizens or more social workers — we should all be able to agree that we could certainly use a few more good Samaritans. As we saw in this footage, it only took one good guy to stand up and do the right thing to bring a violent attack to an end. We could definitely use more people like him. I'm sure the victim in this story would agree.
Click this link for the original source of this article.
Author: Christy Pepple
---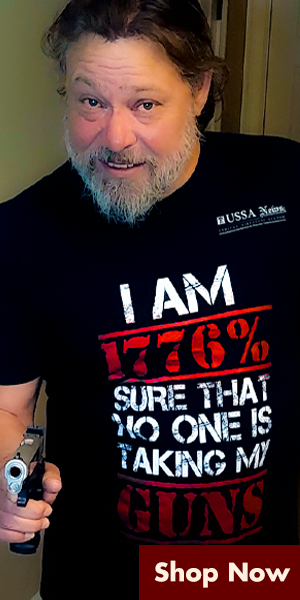 This content is courtesy of, and owned and copyrighted by, https://taphaps.com and its author. This content is made available by use of the public RSS feed offered by the host site and is used for educational purposes only. If you are the author or represent the host site and would like this content removed now and in the future, please contact USSANews.com using the email address in the Contact page found in the website menu.