Tyre Nichols is one of dozens of drivers to have died in recent years after being pulled over by police. Why do traffic stops become violent and what can be done about it?
Last year, at least 86 people were killed by police in interactions that began as traffic stops. In 2021 it was 117, according to the Mapping Police Violence database.
By training police how to de-escalate interactions with drivers and eliminating incentives to pull them over, some departments are reporting success in reducing the number of "flashpoints" of heightened tensions that can lead to violence. 
So what do the numbers tell us?
Last year, traffic stops led to roughly 7% of all police killings nationwide.
Larry James, general counsel of the National Fraternal Order of Police, told the BBC that the dangers of a stop – when an officer doesn't know who, or what, is in a vehicle – mean they must exercise caution.
"There have been situations where officers have been shot, just flat out killed or seriously injured, in traffic stops. That's the bottom line. So they're extremely cautious," he said.
"The situation in Memphis is very different. There's no comparison. There was no danger to the officers on the basis of the video."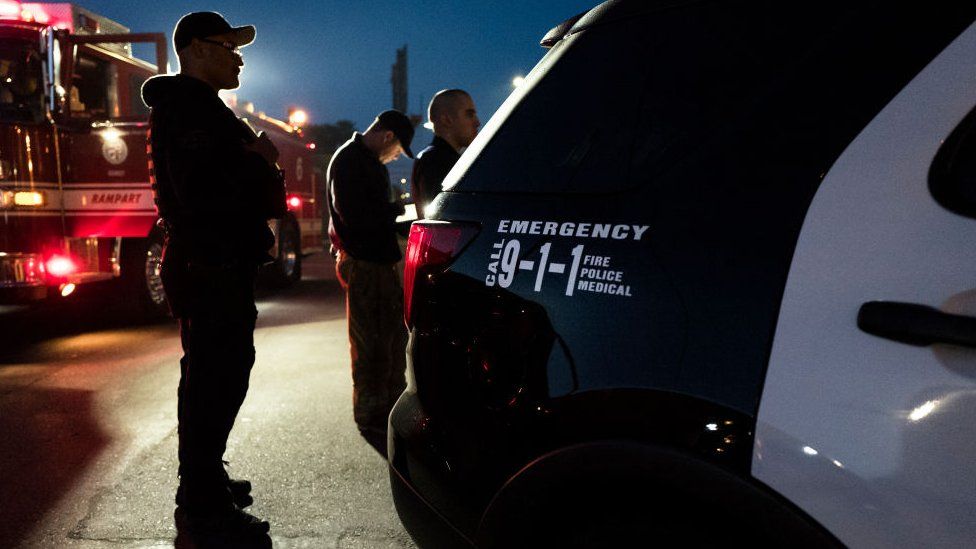 "[Officers] are trained, basically, that a traffic stop is the most dangerous thing an officer might engage in on any particular day," she said.
Traffic stops, Ms Bell Hardaway explained, also pose a danger to those being pulled over, with statistics showing that civilians are more likely than law enforcement officers to die in traffic stops. 
"As dangerous as police officers are taught it is for them, we know that civilians are killed at a far greater rate by police officers than in reverse," she said. 
Jennifer Hicks, a former Utah police officer, recalled that in the departments in which she worked, individual traffic stop statistics were put up on a board for all to see, with officers rewarded for giving out tickets.
"I remember that very clearly, as I was always at the bottom, because I hated giving out tickets," she said.
"It was always pointed out in front of everyone that I had the lowest citation numbers."
That's beginning to change. Several jurisdictions across the country have announced prohibitions on quotas among other changes to their traffic stop policies.
Last March, Philadelphia began implementing new rules mandating that drivers can no longer be stopped for minor infractions, such as missing brake lights or items hanging from the rear view mirror.
A similar move was announced in Los Angeles, where – in response to complaints that traffic stops were disproportionately affecting black and Latino drivers – the LAPD ordered that officers not conduct stops unless they have reason to believe a more serious crime has taken place.
In cases when they do stop someone, officers must record the interaction with their body cameras.
A Los Angeles Times analysis of LAPD statistics, published in November, found that the policy led to a drastic reduction – over 40% – in stops for minor violations.
Still, it's "too early" to tell whether such policies have a significant impact on the outcome of traffic stops, said Ed Obayashi, a California-based police officer and training expert who helps departments across the US carry out use-of-force investigations.
"There's no guarantee that it's going to result in less incidents of violence between police and individuals," he said.
"It's going to be impossible to establish any correlation between the two."
Determining whether a stop is racially motivated can be equally difficult, Mr Obayashi added.
He pointed to San Diego, which now requires that officers fill out a "stop card" after pulling someone over, where they identify the ethnic background of the person stopped.
In that case, he said, the results were inconclusive and provided no concrete data that could allow police to determine a relationship between race, traffic stops and potential violence. 
"This data was pored over and analysed to determine if there was a trend of bias," he said.
"Nobody was able to say that the stops were racially motivated. You still can't. It's impossible. There's just no way to do that unless you get into the mind of a cop."
Ms Bell Hardaway, for her part, said that cultural shifts in departments – accompanied by changes in training – are probably the best ways to mitigate the number of traffic stops that turn violent. 
She said that current training in many US police departments continues to focus on traffic stops as potentially deadly situations, leaving little room for officers to "de-escalate" tensions and fears. 
"Training officers and officers on the street need to recognise the actual realities of traffic stops and their perceptions of the dangers, which don't bear out with the data. That's an important conversation and training initiative that all departments should take around the country." 
Click this link for the original source of this article.
Author: By Bernd Debusmann Jr
---
This content is courtesy of, and owned and copyrighted by, http://peltthepundits.com and its author. This content is made available by use of the public RSS feed offered by the host site and is used for educational purposes only. If you are the author or represent the host site and would like this content removed now and in the future, please contact USSANews.com using the email address in the Contact page found in the website menu.