Dan Bongino thought he had seen it all regarding professional sports teams alienating some of their fans. However, when he saw what transpired at a Major League Baseball game, the Fox News host said: "This is why I refuse to watch pro sports anymore. Do you believe this crap?"
Dan Bongino uses his radio program to discuss significant events that impact American politics and culture. The former secret service agent was struck with disbelief after reading the headlines coming out of Boston, Massachusetts.
"Baseball Strengthens Woke Credentials With CRT Nut At Fenway Park," read the headline of an article Bongino shared. "The Boston Redsox invited Ibram X. Kendi to throw out the first pitch – usually an innocuous event. Kendi is a radical Boston University professor, a peddler of Critical Racist Theory, a contributor to a book based on the 1619 Project, and the author of a children's indoctrination book titled Goodnight Racism."
Bongino explained why he believed Kendi being honored by a professional baseball team was inappropriate. "The Redsox invited Ibrahim Kendi?" he asked. "A racist. Just read his own words…do you believe this crap? This is why they have failed to attract me as a fan anymore. It's really difficult for me to get into baseball anymore knowing that these people, like the Redsox and these organizations, are celebrating people who are openly destroying America."
The radio host continued to describe his outrage. "Ibrahim Kendi is a big proponent of Critical Racist Theory, the theory that everyone should be a racist by judging everyone by their skin color," Bongino declared. "Yes, that is exactly what [CRT] says. Training everyone to be racist and to see skin color first, and everything else second. Which by definition, I'll have you note, is racist."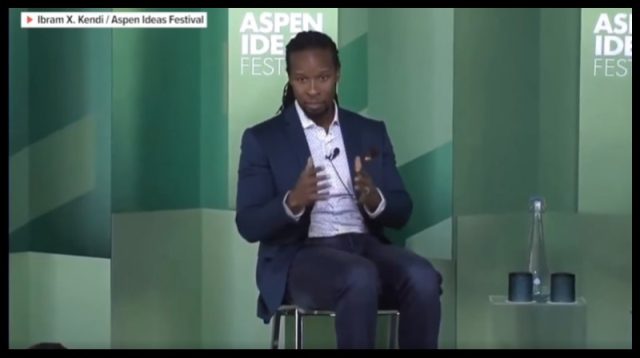 Bongino then showed Kendi describing what racism is to him. "I would define it, as a collection of racist policies, that lead to racial iniquity, that are substantiated by racial ideals," Kendi said. "A collection of racist policies that lead to racial inequity that are substantiated by racial ideals. And anti-racism is pretty simple using the same terms."
Bongino was left shaking his head at the video clip and claimed Kendi didn't define anything. "When asked to describe an object or thing, folks, you should not describe it by using it as a description," Bongino said. "In other words, if I ask you to describe what a pen is, and your description is a 'pen-like object.' That is not, in fact, a definition. It is simply using the word you asked me to define in the definition because you cannot think of another word to define what you want to define."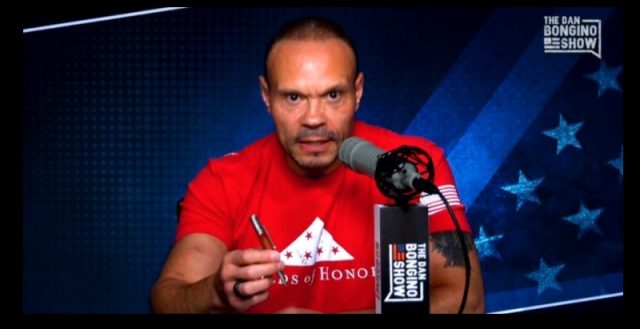 MRCTV reporter Jason Maxson agreed with Dan Bongino. "Plain and simple, Kendi's appearance at Fenway Park was a brushback pitch at conservatives," Maxson wrote. "Who detests his anti-American influence on government education and the students subjected to its woke propaganda. Numerous states are attempting to ban it from the public school curriculum."
"Kendi has become a millionaire, proving once again that race hustling is a lucrative business – whether claims of racism are actually true or not," Maxson added.  "This event at Boston's Fenway Park also proves that professional baseball no longer deserves to carry the mantle of America's favorite past-time. MLB also got slammed earlier this season for promoting child sex change surgery, and now it is openly pitching CRT."
National Desk correspondent Alec Schemmel also reported on Kendi's appearance at Fenway Park. "Controversial Critical Racist Theory scholar Ibram X. Kendi says he believes capitalism and racism are 'interlinked,'" Schemmel wrote. "And that anyone who describes themselves as an 'antiracist' but does not adhere to anti-capitalist principles is not truly antiracist."
"Despite that, Kendi appears to have proudly accepted an invitation from Fenway Sports Group Holdings, LLC to throw out the first pitch Monday night at the Boston Red Sox game against the Tampa Bay Rays," he added. "Fenway Sports Management, is a multibillion-dollar corporation and the third most valuable sports empire, according to Forbes…But all of this context appeared to be moot for Kendi when he went under the lights to toss out the first pitch."
Click this link for the original source of this article.
Author: Rebecca Diserio
---
This content is courtesy of, and owned and copyrighted by, https://taphaps.com and its author. This content is made available by use of the public RSS feed offered by the host site and is used for educational purposes only. If you are the author or represent the host site and would like this content removed now and in the future, please contact USSANews.com using the email address in the Contact page found in the website menu.