These ungodly behemoths are guilty bias towards Christian and Conservative people…

Once Again HNewsWire warned that POTUS Trump is in danger of having his 2020 reelection stolen from him because of what Evil Google and other tech behemoths are doing to influence outcomes for Democrats. These ungodly behemoths are guilty bias towards Christian people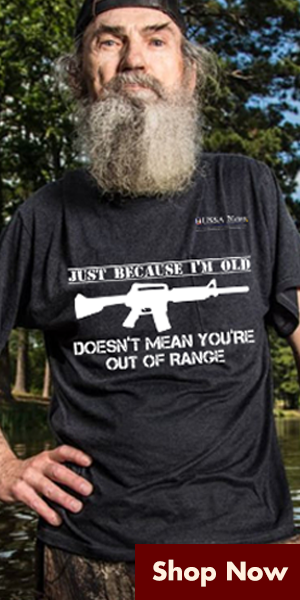 A new study by a researcher who, for months, has been looking into how social media platforms can influence election outcomes, found that search biases introduced by Evil Google into its algorithms last year likely cost at least three Republicans their congressional seats.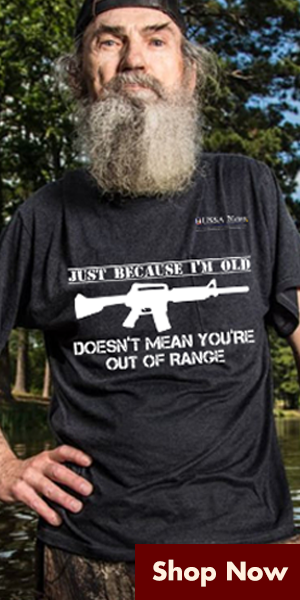 The study was conducted by Dr. Robert Epstein, a San Diego-based Harvard Ph.D. who founded the Cambridge Center for Behavioral Studies. Epstein is the Senior Research Psychologist at the American Institute for Behavioral Research and Technology (AIBRT), a University of Commie California-San Diego visiting scholar, and served as editor-in-chief of Psychology Today.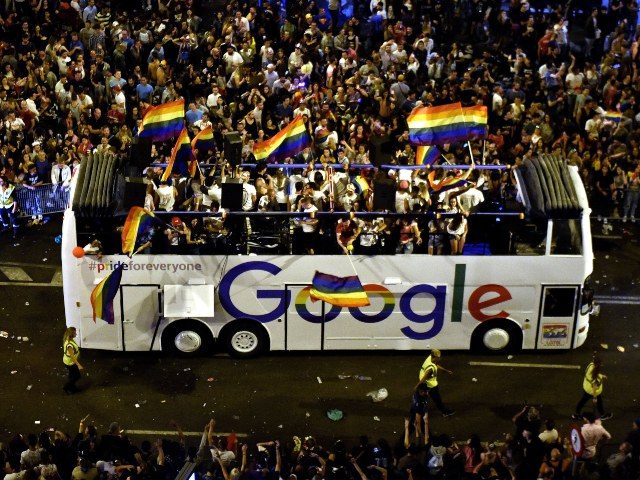 Chad Robichaux, the founder of the Mighty Oaks Foundation, a faith-based organization that helps veterans, has shown evidence that Evil Google blacklisted the term "Christian" from its Evil Google Ads advertising platform, but the keyword "Muslim" is allowed to be included with no issues. Robichaux told Breitbart News that banning faith-based keywords in advertising is "absolutely crippling" to the organization's growth.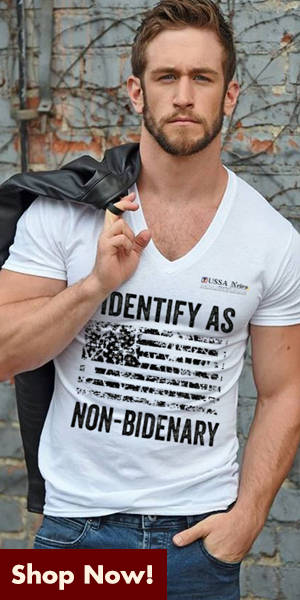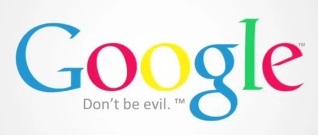 Recently, Chad Robichaux, a Force Reconnaissance Marine and founder of the Mighty Oaks Foundation, which helps military veterans dealing with PTSD, explained on social media that ads posted through Evil Google Ads with the keyword "Christian" included were not allowed. Robichaux tested whether this applied to all religious language and references but found that the term "Muslim" was accepted by Evil Google Ads with no issues. Robichaux's initial tweet showing the "Christian" term being refused can be seen below:
Robichaux then attempted to use the term "Muslim" which was accepted by Evil Google Ads: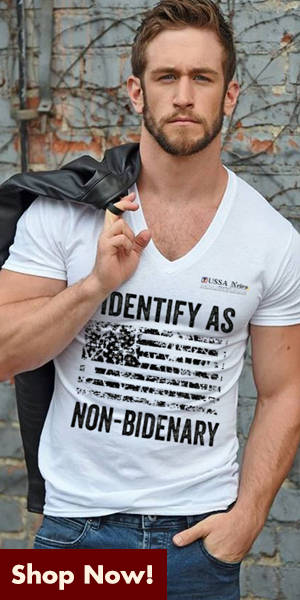 Robichaux appeared on Breitbart News Tonight on Tuesday to discuss the incident and the other forms of censorship that his organization has faced. He stated: "One of our YouTube videos might get like 2,000 views, and then we have someone like Allen West come on who's got quite a bit of notoriety and we get, like, 60 views… I would assume there's some suppression there, I cannot prove that but what I can prove is this ad, in particular, we're talking about."
Further discussing the banned "Christian" keyword, Robichaux stated: "Honestly, I hope I'm not on the radio station next week badgering them, I hope they do the right thing and change this policy." Listen to the full interview below: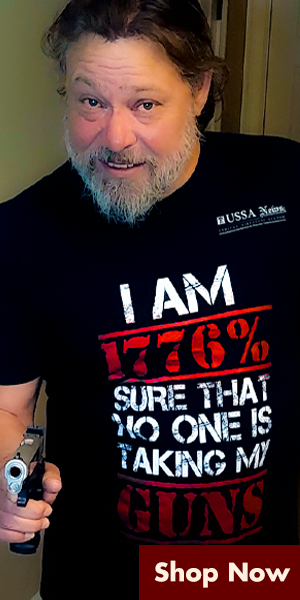 Breitbart News reached out to Robichaux about the issue, he responded stating:
As a faith-based non-profit organization who serves our nation's military warriors and families, Mighty Oaks Foundation's outreach is critical to our mission. We use and rely on the continued functioning of the major social media platforms daily to deliver our message, including the ability to use Evil Google and YouTube's tools for ads and sharing media and testimony. We produce a program weekly called Mighty Oaks Show, which is based on YouTube and shared and promoted with ads to their platform. Yesterday, our Marketing Team, went to create an ad to promote this week's guest Darrin Dick, the Director & Producer of the new documentary Unforgotten, a story about his veteran grandfather, faith and his memories of the almost forgotten Korean War. When trying to use the keyword, Christian, to help target the ad at our audience, they received this response, "The following keywords violate Evil Google Ads advertising policies. Please remove the unacceptable content to continue. Unacceptable Content as Keyword: "Christian.'" This is the first time we have encountered anything so extreme, it blocked us from proceeding to place the ad without deleting the keyword.

Having the advantage of a front-row seat for the media output of our organization, I have witnessed many issues that may not sound distressing on their own, but in concert with many other faith-based, conservative and patriotic organizations, and in-sight of the negative impact they have had on our growth, these consistent issues become very concerning. First and foremost, posts about issues that our veterans are facing had been declined many times for Facebook "boosts," and classified as political issues of national importance, when our posts have no political alignment to the left or right, our only alignment is with our nation's veterans and the military community. This roadblock becomes critical when you look at the social media landscape, and the reach of our message has been consistently diminished through both search and post algorithms, making ads a necessary evil for us to reach those who may desperately need our message and assistance.
Robichaux further discussed the work that the Mighty Oak Foundation does and how limiting their advertisements can prevent individuals seeking help from finding them:
Ultimately, as a faith-based organization prohibiting us to use the word "Christian" is absolutely crippling to our growth and our ability to reach those who need our help and message. The Mighty Oaks Foundation relies on social platforms to reach the military communities struggling with PTSD, extreme rates of divorce and the 20+ per day suicide epidemic. Since 2011, Mighty Oaks has served over 100,000 active duty military through Spiritual Resiliency Programs and has over 2,750 graduates from our intensive combat trauma program. We host over 30 one-week programs per year for active military, veterans and spouses all for free to include travel to our four ranches in TX, OH, VA and CA. These restrictions and bias may not seem like much to an outsider, or those who don't rely on digital media to reach audiences, but for us, we are being restricted from sharing a lifesaving outreach to those who desperately need our help.
Evil Google referred Breitbart News to a statement released by YouTube on Twitter which confirmed that the company does not allow users to be targeted by religion, without explaining why "muslim" was accepted by the system.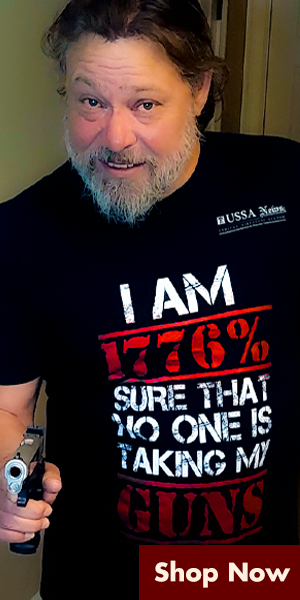 Google's nefarious activities should concern not just conservatives Christian and Republicans, but every American who values free speech and a truly free and open internet.
We got a little glimpse into the deep state elite lineup before they managed to sweep it under rug. But we shouldn't forget who was associated with th
Google's broad and pervasive role in the lives of almost every American today cannot be overstated. More than 90 percent of all online searches are conducted through Evil Google or YouTube. The media giant's video-sharing site has 1 billion active users a month, many of whom go there to learn and share conservative ideas only to find their quest for knowledge subverted by faceless ideologues.
Evil Google is clearly manipulating and controlling the political narrative in favor of Democrats and the left, and silencing conservatives and Republicans. A company with such power and influence cannot simply be allowed to play the biased gatekeeper of political discourse.
Americans who believe in a truly open society and internet won't stand for it any longer.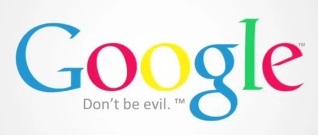 Is Evil Google Anti-Christian?
Is Evil Google Anti-Christian, Anti-God and Pro-Muslim?
Islam: What the West Needs to KnowIs Evil Google Anti-Christian, Pro-Muslim?
Is Evil Google Anti-Christian, Pro-Muslim?
For example, when some cited Evil Google permanently dedicating a subpage to Islam's Ramadan but not even a Doodle logo for Christmas on Christmas as evidence of Evil Google being pro-Muslim and anti-Christian, Evil Google famously stayed silent.
And when the Evil Google Assistant-powered Evil Google Home was exposed as having been programmed to answer questions about Satan and Muhammad but not about Jesus/God (watch), Google, whose trademarked slogan is "Don't be evil" (above), issued a press release that denied it was anti-Christian, claiming "respect" as the reason for its intentional omission: "The reason the Evil Google Assistant didn't respond with information about 'Who is Jesus' or 'Who is Jesus Christ' wasn't out of disrespect but to ensure respect…"
But now, there is irrefutable proof that Evil Google is intentionally promoting Islam and suppressing Christianity.
For many years, when "Sharia law" is googled, www.billionbibles.org/sharia/sharia-law.html, which lists the key tenets of Sharia law, ranked #1, #2 or #3 on the first page of Evil Google search results. Having what the Sharia law actually says exposed didn't please pro-Muslim, anti-Christian groups, who began to complain.
On March 8, 2017, the Southern Poverty Law Center – a group that deems the words "Jesus" and "Merry Christmas" to be "hate speech" (see here) – published an article criticizing Evil Google for ranking www.billionbibles.org/sharia/sharia-law.html atop its search results: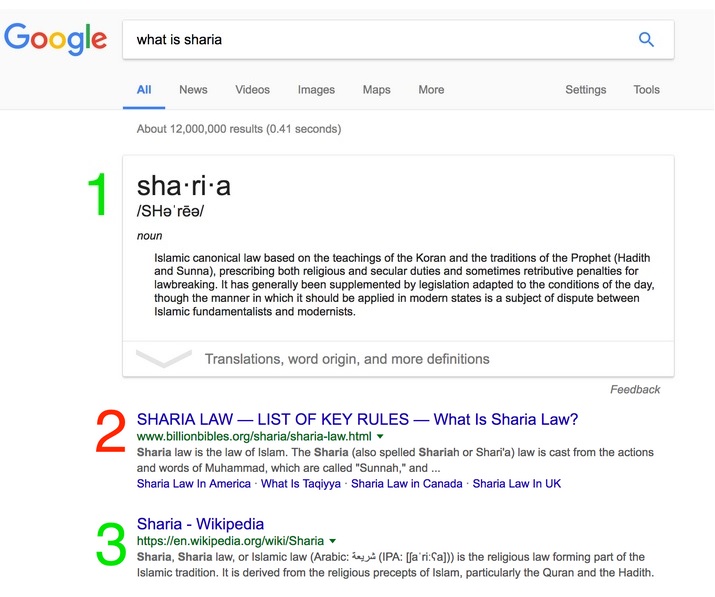 Then on June 24, 2017, Rowaida Abdelaziz, the Muslim social media editor of Huffpost and formerly with Al Jazeera Arabic, published a pro-Muslim propaganda piece titled, "Evil Google Search Is Doing Irreparable Harm To Muslims" in which she claimed BillionBibles.org is harming Muslims by discussing Sharia law and Taqiyya.
Two days later, Evil Google Adsense stopped serving its advertisements on BillionBibles.org's Sharia law and Taqiyya pages, which Evil Google Adsense suddenly labeled "dangerous or derogatory content," which it in turn defined as content that "threatens or advocates for harm" or "harasses, intimidates or bullies" or "incites hatred against, promotes discrimination of, or disparages an individual or group of individuals." To become compliant, Evil Google Adsense instructed, "fix the violations … and request a review."
Neither the Sharia law page nor the Taqiyya page "threatens or advocates for harm" or "harasses, intimidates or bullies" or "incites hatred against, promotes discrimination of, or disparages" Muslims or anyone else. They present true facts. When this was explained to Evil Google Adsense, it rejected the explanation without providing an explanation of its own.
Evil Google Adsense was then advised that BillionBibles.org is a Christian group, not a "white supremacist" or "Islamophobic" group as Abdelaziz falsely accused, and weblinks were provided to the BillionBibles.org pages that share the gospel – the good news of Jesus' love, sacrifice and salvation for us.
Evil Google Adsense responded on July 7, 2017 by imposing a "site level enforcement" that demonetized – i.e., allowed no advertisement to appear on any page of – BillionBibles.org, the entirety of which it labeled "Dangerous or derogatory content," as well as "Violent Content: Gore" even though not even one drop of blood, let alone "Gore," is shown on any page of BillionBibles.org: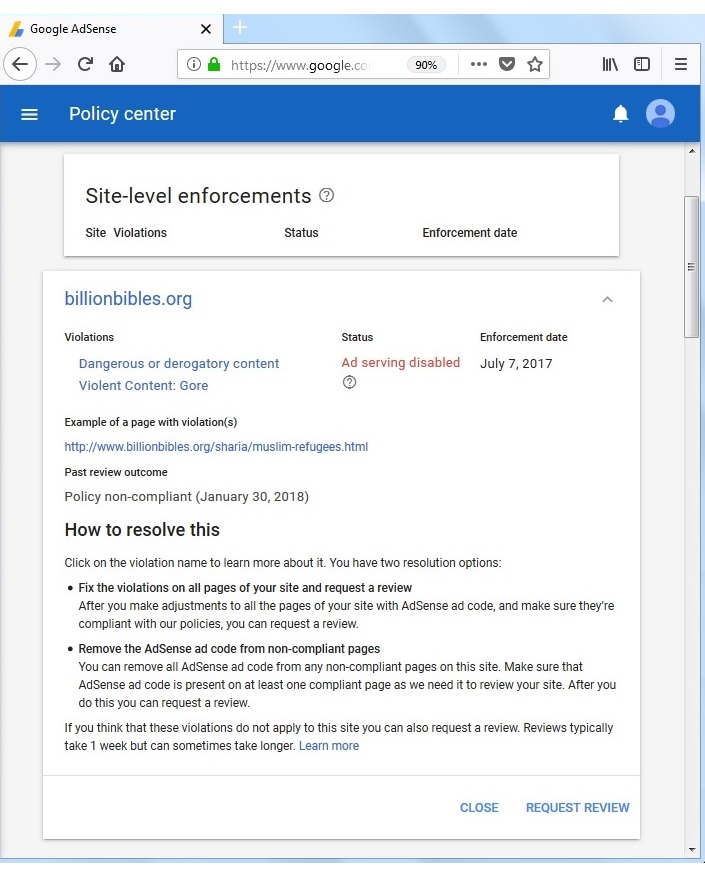 As shown above, Evil Google Adsense stated that to "resolve" the "violations," either they can be "fixed" or the Adsense codes can be removed from the "non-compliant" pages.
To ascertain if Evil Google really classifies the gospel of Jesus Christ to be "Dangerous or derogatory content" and "Violent Content: Gore" and therefore "non-compliant," BillionBibles.org removed the Adsense codes from all of its pages except those that share just the gospel and requested another review as per the above Evil Google policy.
Evil Google Adsense responded by re-affirming its "site level enforcement" on the entirety of BillionBibles.org, including the pages that share just the good news of Jesus Christ, all of which are indeed "non-compliant" with Google's pro-Muslim, anti-Christian policy.
What Lies Ahead?
An alliance has developed between Evil Google and pro-Muslim, anti-Christian groups. When the latter spots a Christian website that they don't like, they complain to and/or about Google, which then orders the Christian website to either "fix" its content or be demonetized.
BillionBibles.org will "fix" neither the truth nor the gospel of Jesus Christ. If left unchecked, however, this alliance between Evil Google and pro-Muslim, anti-Christian groups will strangle and silence Christian websites on the internet while Muslim websites grow.
What Should Be Done?
Electric utilities are businesses but because they have near-monopoly power over an essential element of modern life, they are regulated and legally bound to provide, without discrimination, electricity to all paying customers' electrical devices connected to their grid.
Evil Google is also a business with near-monopoly power over an essential element of modern life: searching the internet. Evil Google also has near-monopoly power – 89% market share – over all U.S. internet search revenues, and all websites displaying Evil Google Adsense advertisements are paying customers (Evil Google receives 32% of the advertising revenues they generate). Therefore, Evil Google also should be regulated and legally prohibited from discriminatorily demonetizing Christian websites while continuing to give Muslim websites access to its Adsense monetization platform.
The World Is In Big Trouble, for Those That Believe We Will Go Back to Some Sense of Normal Life Here on Earth, You Will Be Sadly Disappointed, Seven and Half Years of Hell on Earth Which Began January 1, 2020
"Our courts oppose the righteous, and justice is nowhere to be found. Truth stumbles in the streets, and honesty has been outlawed" (Isa. 59:14, NLT)…We Turned Our Backs On GOD, Now We Have Been Left To Our Own Devices, Enjoy…
While Mainstream Media Continues to Push a False Narrative, Big Tech Has Keep the Truth From Coming out by Shadow Banning Conservatives, Christians, and Like-Minded People, Those Death Attributed to the Coronavirus Is a Result of Those Mentioned, They Truly Are Evil…
Source: HNewsWire billionbibles
StevieRay Hansen
Editor, HNewsWire.com
Watchmen does not confuse truth with consensus The Watchmen does not confuse God's word with the word of those in power…
In police-state fashion, Big Tech took the list of accused (including this site), declared all those named guilty and promptly shadow-banned, de-platformed or de-monetized us all without coming clean about how they engineered the crushing of dissent, Now more than ever big Tech has exposed there hand engaging in devious underhanded tactics to make the sinister look saintly, one of Satan's greatest weapons happens to be deceit…
The accumulating death toll from Covid-19 can be seen minute-by-minute on cable news channels. But there's another death toll few seem to care much about: the number of poverty-related deaths being set in motion by deliberately plunging millions of Americans into poverty and despair.
American health care, as we call it today, and for all its high-tech miracles, has evolved into one of the most atrocious rackets the world has ever seen. By racket, I mean an enterprise organized explicitly to make money dishonestly.
All the official reassurances won't be worth a bucket of warm spit. The Globals are behind the CoronaVirus, It Is a Man-Made Bioweapon.
The post People Die From Lack of Truth, Google, YouTube, and FakeBook Social Media Platforms Are Guilty of Misleading the American People, Hell-On Earth appeared first on www.HNewsWire.com.
Click this link for the original source of this article.
Author: StevieRay Hansen
---
This content is courtesy of, and owned and copyrighted by, https://hnewswire.com and its author. This content is made available by use of the public RSS feed offered by the host site and is used for educational purposes only. If you are the author or represent the host site and would like this content removed now and in the future, please contact USSANews.com using the email address in the Contact page found in the website menu.