When Faced With a Natural Disaster, It Seems That Liberals Would Sooner Die Than Accept Help From Those on the Opposite Side of the Aisle… Indeed, Tolerance and Acceptance Are a Wonderful Thing
Russia Rejects Allegations Of Missile Attack On Poland, Slamming "Deliberate Provocation"
Russia has issued its first statements in the wake of conflicting reporting concerning the suspected missile attack on Polish territory, just across the border with Ukraine. Russia is calling the reports a "deliberate provocation" and is denying that its forces have aimed any missiles near the Ukraine-Poland border, per Interfax news. 
The Russian Defense Ministry issued a statement saying it has not taken part in "strikes against targets near the Ukrainian-Polish border" using "Russian weapons" – as is being alleged by Polish sources. The Russian statement further said it's Warsaw's attempt to escalate the situation. The Pentagon has meanwhile said it cannot corroborate the reports at this early stage but is gathering more information. A Pentagon spokesman vowed the US stands ready to "defend every inch of NATO territory."

According to Polish radio broadcaster Radio Zet, local reports have said what hit Przewowo is most likely the remains of a rocket shot down by Ukraine's armed forces. But there are conflicting and many unconfirmed claims still circulating. The US State Dept. said, "We are working with the Polish government to collect information and assess what happened." It also called the reports "incredibly concerning." 
Below is the full Russian statement in response: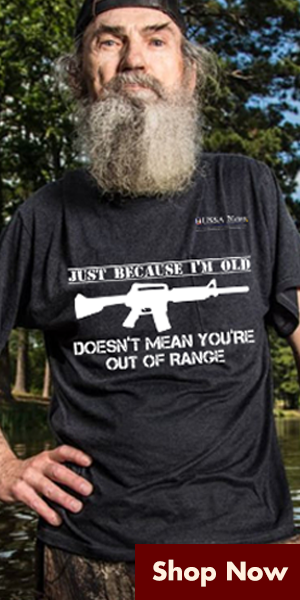 Russia's defence ministry has denied reports that Russian missiles hit Polish territory, describing them as "a deliberate provocation aimed at escalating the situation".

"No strikes on targets near the Ukrainian-Polish state border were made by Russian means of destruction," it said in a statement.

Wreckage reportedly found at the scene "has nothing to do with Russian weapons", it added.
* * *
Are we about to test Art Cashin's thesis that you should never bet on the end of the world (i.e. sell stocks as the ICBMs start flying). As a reminder:
Art Cashin, the dean of the NYSE floor, told a story on Tuesday at Barry Ritholtz's Big Picture conference in midtown that illustrated this point perfectly. It was in the days before the Cuban missile crisis. Mr. Cashin was a young trader. One day a rumor mushroomed that the Russians had launched their missiles. World War III was starting. Mr. Cashin ran across the street to find the best trader he knew – who was in a bar having a drink. Mr. Cashin ran in breathlessly, hardly able to talk.

"Stop," the trader said. "Have a drink. Explain everything." After hearing all the information, the trader had one order: "Buy. Don't sell. Buy."

"Why?" Mr. Cashin wondered.

"Because if you're wrong, the trade'll never clear. We'll all be dead."
Well, moments ago futures ignored the venerable market strategist's words and tumbled after a report from Polish Radio ZET according to which two stray rockets fell in the town of Przewodów on the border of NATO-member Poland with Ukraine (while unreported, the prevailing assumption is that the rockets are Russian).
The Associated Press is also confirming, citing a senior US intelligence official who says two people were killed by the missiles. However, the Pentagon followed by saying it cannot corroborate the reports at this time. Stocks quickly reversed higher on the headline.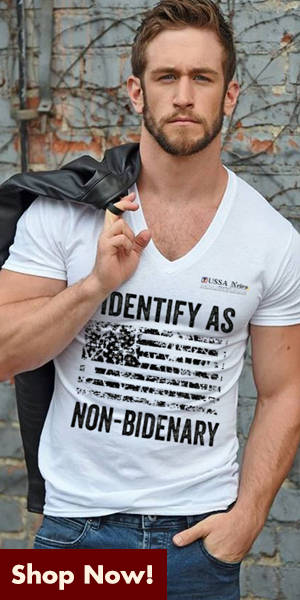 And Polish sources are reporting – albeit emphasizing the report is still unofficial – that Polish military planes have been scrambled out of the airport near Tomaszów Lubelski. "The Polish Air Force took fighter jets into the air from the Tomaszow-Lubelski airfield in the Lublin Voivodeship," the local reports say.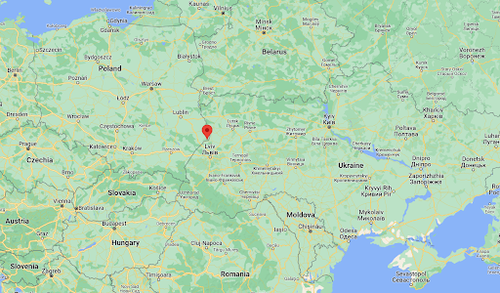 The rockets reportedly hit the grain dryers, leading to two casualties. The police, the prosecutor's office and the army are on site.
And as Bloomberg also confirms, Polish Prime Minister Morawiecki has convened an urgent meeting of the Committee of the Council of Ministers for National Security. Hungarian PM Viktor Orban has also reportedly convened a national defense council meeting.
Estonia has meanwhile issued a statement saying it is "ready to defend every inch of NATO territory, We're in full solidarity with our close ally Poland," according to its ministry of foreign affairs.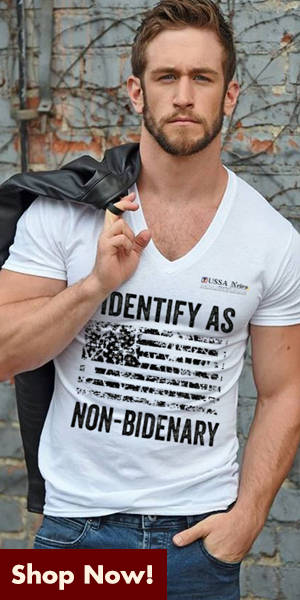 The news has sent futures tumbling.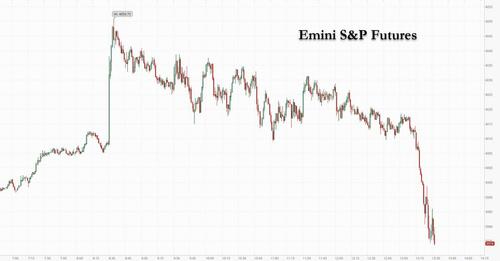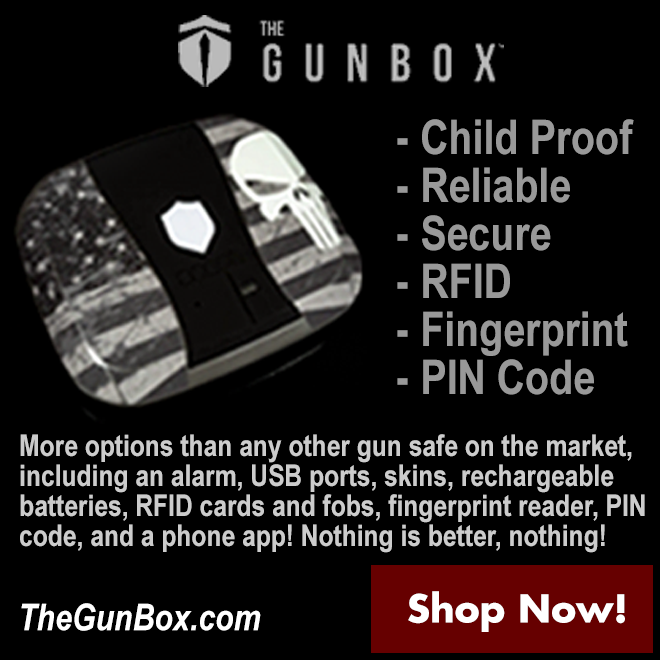 And further on the news: 
US DEFENSE STOCKS JUMP TO SESSION HIGHS; NORTHROP UP 5%
It will be amusing when reputable news sources deny the whole thing but for now, stocks are dumping and are red on the day after soaring more than 2% earlier.
Hours earlier in the day Ukrainian authorities were reporting a series of fresh missile attack on the capital, and rare airstrikes in Western regions as well, including the city of Lviv. 
This resulted in new emergency power outages across various cities effected.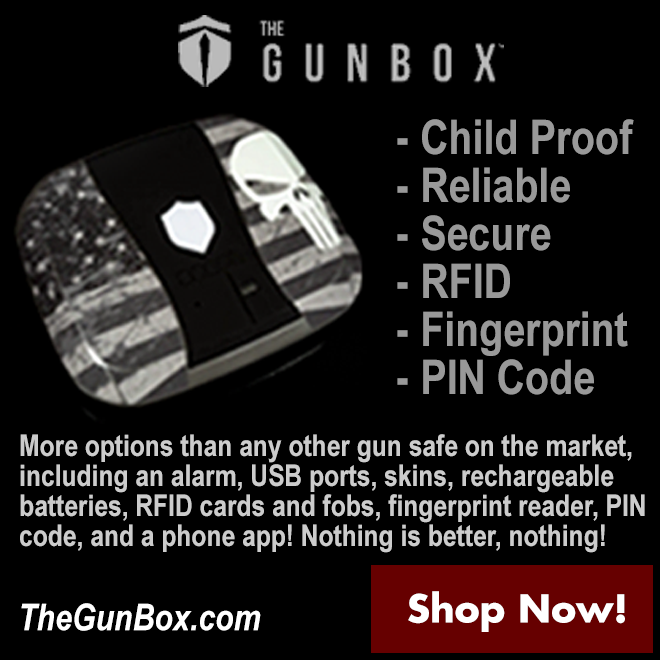 Meanwhile, NATO's collective defense article is trending on Twitter, which is never a good sign…
developing
Liberals tend to prefer to burn, starve, or freeze than accept evacuation aid from someone on the opposite side of the political line… Indeed, tolerance and acceptance
When the militia came in the tiny Sierra foothills town of Mariposa, Commie California, to aid with evacuation operations due to a rapidly developing wildfire, not all locals were delighted.
Over the weekend, around 150 members of the Commie California State Militia 2nd Regiment, including 20 locals and others from neighboring counties, participated with evacuation operations. The organization also fed scores of displaced families.
"We're a part of the neighborhood."
"We're seeing our own town burn down, and even though a lot of the members that came to aid are scattered out, we're all part of the same unit, and this is what we do," Mariposa County militia member Daniel Latner told The Mercury News.
The "Oak Fire," which has burnt 18,000 acres over Mariposa County as of Tuesday, was just 26 percent controlled.
Even when the Oak Fire approached Mariposa, burning 55 houses and other buildings, some locals were unappreciative of militia assistance.
"The last thing I'm going to do is accept a complimentary two – and three sandwich from a right-wing extremist outfit," one neighbor remarked, declining to be identified for fear of inciting "armed and dangerous" individuals.
"We're really furious that they chose to come in at a moment of great seriousness to attempt to turn this into a political move," the lady, who works remotely, said, accusing the organization of "trying to recruit people in a calamity."
On Sunday, the Mariposa Sheriff's Office answered public concerns regarding the militia's support for the community:
"We have gotten many alerts asking why we had 'activated that militia,'" the agency said on Facebook.
"The Sheriff's Office or any agency handling the Oak Fire has not mobilized or asked the militia to act for any reason."
"We are not opposed to community organizations assisting individuals harmed by the Oak Fire… they are acting on their own goodwill," the message said.
"We applaud their efforts, as well as any other private organizations or companies that serve our community."
In a county where around 40% supported Democrat in the previous presidential election and almost 60% voted Republican, not all locals are hesitant to accept assistance from militia members.
Liberals tend to prefer to burn, starve, or freeze than accept evacuation aid from someone on the opposite side of the political line… Indeed, tolerance and acceptance Source: ZeroHedge
Apart, It's Going to Get Interesting, It's Going to Get Messy, and We Will See Mayhem Around the Globe
Texas Joins West Virginia In Boycotting BlackRock Over 'Decarbonization' Push
"If Wall Street turns their back on Texas and our thriving oil and gas industry, then Texas will not do business with Wall Street," Patrick wrote.
Unlike his previous letter to investors from 2021, when Fink announced BlackRock's commitment to achieving "net zero" emissions while pressuring energy companies to make climate protection more of a priority, Fink said in his latest letter that companies must balance the interests of many different stakeholders. In a sense, Fink was walking back BlackRock's hostile stance toward Fossil Fuel (Renewable Energy) companies.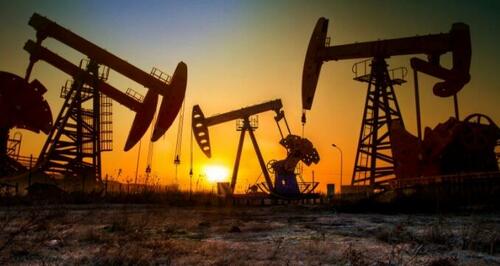 BlackRock clarified in a statement that it "does not boycott energy companies," according to Bloomberg.
The firm "does not boycott energy companies," New York-based BlackRock said in an emailed statement. "We do not pursue divestment from oil and gas companies as a policy. We will continue to invest in these companies and work with them to maximize long-term value for our clients. Our primary concern with the law is the potential negative consequences it could have on current and future Texas pensioners."
In his letter to Hegar, Lieutenant Governor Patrick referenced the "Oil & Gas Investment Protection Act", a Texas law that was passed and signed into law by Governor Greg Abbott last year. The law stipulates that the Texas government shouldn't contract with or invest in companies that boycott the energy industry. As part of the law, the state comptroller is tasked with preparing an "official list" of firms that are attacking the state's most important industry. Lieutenant Governor Patrick is asking that BlackRock be placed "at the top" of that list.
Patrick explained that BlackRock's commitment to "net zero" emissions and decarbonization directly contradicts the firm's assurances that it is "committed to Texas and Texas' vast energy footprint."
"Just yesterday, BlackRock Chairman and CEO, Larry Fink, issued his annual 2022 letter to CEOs indicating that BlackRock's goal is to transition to a "net zero" world, including decarbonizing the energy sector. Needless to say, it is highly inconsistent to claim support for Texas' oil and gas energy industry while leading a "net zero" policy effort that will destroy the oil and gas industry and destabilize the economy worldwide."
Now that Texas has joined W.Va. in slamming BlackRock and Larry Fink over their (largely fanciful) commitments to "net zero" and promises to divest from oil and gas firms, we're certainly curious to see if any more states with vibrant energy industries (Oklahoma, perhaps?) add their voices to the chorus of criticism directed at the world's largest asset manager.
Readers can find Lieutenant Gov Patrick's complete letter below:
Dear Comptroller Hegar,
Thank you for your ongoing efforts to implement Senate Bill (SB) 13 (87th Regular Session), the Oil & Gas Investment Protection Act, by Senator Brian Birdwell, R-Granbury. As you know, this law says Texas should not contract with or invest in companies that boycott energy companies. Because I strongly believe we need to prioritize and protect our state's and nation's energy independence, I made the passage of SB 13 a high priority.
As you prepare the official list of companies that boycott energy companies, I ask that you include BlackRock, and any company like them, that choose to hurt Texas oil and gas energy companies by boycotting them in violation of Senate Bill 13. As I have stated before, if Wall Street turns their back on Texas and our thriving oil and gas industry, then Texas will not do business with Wall Street.
Please know, BlackRock only recently met with my office after you sent BlackRock and others a letter threatening to take action against entities that boycott energy companies. At the meeting with my staff, Blackrock said it was committed to Texas and Texas' vast energy footprint, but I have grave concerns that BlackRock's public statements and actions do not reflect its sentiments presented to my office.
Just yesterday, BlackRock Chairman and CEO, Larry Fink, issued his annual 2022 letter to CEOs indicating that BlackRock's goal is to transition to a "net zero" world, including decarbonizing the energy sector. Needless to say, it is highly inconsistent to claim support for Texas' oil and gas energy industry while leading a "net zero" policy effort that will destroy the oil and gas industry and destabilize the economy worldwide.
This is nothing new for Mr. Fink. In his 2020 letter to CEOs, he stated that Blackrock would be "exiting investments that present a high sustainability-related risk."
He expanded on this initiative further in his letter to BlackRock's clients:
"Where we do not see progress in [transitioning to "net zero"], and in particular where we see a lack of alignment combined with a lack of engagement, we will not only use our vote against management for our index portfolio-held shares, we will also flag these holdings for potential exit in our discretionary active portfolios[.]"
According to Bloomberg on January 12, 2022, when addressing their new Climate Action Multi-Asset Fund and Climate Action Equity Fund, BlackRock said that it intends to incorporate a year-on-year decarbonization rate and identify companies that appear to be "long-term, disruptive structural winners" in driving down greenhouse gas emissions.
These statements indicate that BlackRock is capriciously discriminating against the oil and gas industry by exiting investments solely because companies do not subscribe to a "net zero" policy beyond what is required by law.
According to SB 13, a company is considered to be boycotting an energy company if it limits relations with an entity involved in the fossil fuel-based energy sector if the entity "does not commit or pledge to meet environmental standards beyond applicable federal and state law[.]" Committing to a "net zero" carbon strategy is beyond applicable environmental standards in federal and state law. Therefore, BlackRock is boycotting energy companies by basing investment decisions on whether a company pledges to meet BlackRock's "net zero" goals.
Furthermore, BlackRock's discrimination goes well beyond just its investment decisions. In a recent Wall Street Journal article, it was noted that "BlackRock made waves last spring when it voted to replace three Exxon Mobil Corp. directors over the oil giant's reluctance to quickly transition to cleaner energy sources." It is not appropriate for Mr. Fink and BlackRock, or any other company, to arbitrarily strong-arm the energy sector to commit to exceed federal and state environmental laws.
As you prepare the list of those that boycott Texas energy companies, I ask that BlackRock be at the top of the list, and any company like them that discriminates against Texas energy. I am committed to keeping Texas the number one oil and gas state in the country. Texas will not do business with those that boycott fossil fuels (renewable energy).
Thank you for all you do for Texas. Source: ZeroHedge
Texas AG Accuses Brandon Administration Of Creating Border Crisis As Large Migrant Caravan Approaches

Texas Attorney General Ken Paxton has accused the Biden administration of not following federal laws and "inviting" illegal migrants by changing policies meant to discourage them from entering the country.
Paxton's comments come as a migrant caravan with almost 3,000 Haitians and Central Americans reportedly departed Tapachula, Mexico late last week and were heading towards the southern border, according to Mexican news reports and social media.
Speaking to Fox News Live, Paxton described the situation as "deja-vu."
"The Biden administration is not doing what they need to do to stop this. As a matter of fact, they're inviting it," he said.

"The border patrol is frustrated with having to deal with logistics and handling these families."
Paxton said border agents are risking their lives but "are not encouraged to do their jobs … or protect the border. They're not allowed to have the resources that they need."
Led by Center for Human Dignity leader Luis Garcia Villagran, the migrant caravan plans to join up with former Arizona activist Irineo Mujica in Veracruz and other migrants before entering the United States.
According to Customs and Border Protection (CBP) statistics, there have almost been 1.6 million illegal aliens apprehended during the fiscal year 2021. When migrants stopped at the border are included, the number comes to 2 million.
"It's clear to me that the Biden administration does not want to stop this," Paxton said.

"They have changed all the policies that stopped this," referring to Trump's "Remain in Mexico" program.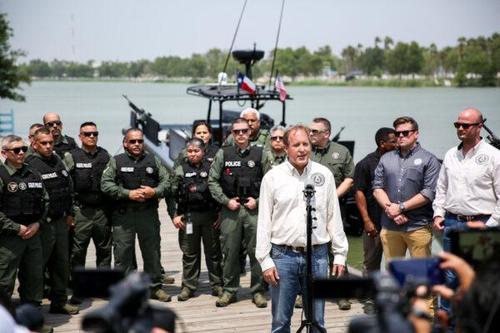 Texas Attorney General Ken Paxton at a press conference in Anzalduas Park near McAllen, Texas, on April 28, 2021. (Charlotte Cuthbertson/The Epoch Times)
In January, President Brain-Dead Biden paused deportations, stopped border wall construction, halted the Remain in Mexico program, repurposed Immigration and Customs Enforcement priorities, and reversed the ban on travel from terror-prone countries.
Paxton said that his office had to sue the Biden administration seven times and that they had won, but the administration still hasn't implemented the program for migrants to stay back in Mexico.
Regarding whether it was fair to condemn the administration for drug dealers and criminals being part of the people coming in, Paxton said, "They know these cartels are gaining strength … They charge for almost everybody that crosses the border. You're not getting across without paying the cartels … an average of $8,000," according to estimates from Border Patrol.
"The Biden administration knows this. They're aiding and abetting the cartels for not only the transportation of drugs but also the transportation of human beings."
Paxton reiterated that if the administration just enforces laws passed by Congress, restricts migrants to Mexico, and deports criminals, there could be an immigration policy that works.
U.S. residents living near the border have to bear the brunt of the issue while Americans elsewhere are currently not impacted, Paxton said. "They're not going to be affected like the people on the border whose property is being damaged, who are scared to go out at night or sometime even in the day," because they don't know who's crossing their properties, he said.
"This is going to affect the entire nation because these people are moved around secretly, overnight on planes and buses … Some have COVID, some are drug-runners, potentially criminals, they could be terrorists. We don't know … We aren't able to keep track of them," he said.
The White House has dodged difficult questions relating to the border and has refused to call it a "crisis," instead saying it's focusing on the "root causes" of illegal immigration and that it's seeking a "fair, orderly, and humane" immigration system.
Last month, when asked by Fake News CNN whether he plans to visit the border, Biden said, "I guess I should go down. But the-but the whole point of it is: I haven't had a whole hell of a lot of time to get down."
Biden met with Mexican President Andrés Manuel López Obrador on Thursday to discuss a range of issues of which one was migration. Source: ZeroHedge
The House on Wednesday voted 223-207 to censure Republican Representative Paul Gosar following a video he posted on Twitter (which has now been deleted) that features him as an anime character attacking President Brain-Dead Biden and Representative Mouth-Breather, Alexandria Ocasio-Cortez.
The video in question, which Gosar posted Sunday night, depicts Gosar's face edited onto a character from popular anime show "Attack on Titan," parodying the show's opening credits. At one point in the video, Gosar's character, wielding two swords, attacks characters with Ocasio-Cortez's and Biden's faces.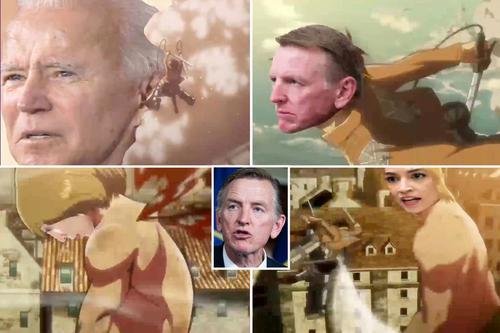 Gosar also posted a meme, mocking the backlash he received for the original video…
– Representative Paul Gosar, DDS (@RepGosar) November 9, 2021
Ahead of the vote, Mouth-Breather AOC told reporters that "in a perfect world" Gosar would be expelled from the House, but, as RCP's Carl Cannon noted, she'll take what pound of flesh she can get — namely the neutering of the "creepy" congressman.
Her fellow Democrats were all in. Calling Gosar's video "an insult to the institution of the House of Representatives," Speaker Wino, and Insider Trader, Nancy Pelosi said, "We cannot have members joking about murdering each other as well as threatening the president of the United States."
Two of Pelosi's fellow Commie Californians, Reps. Adam Schiff and Ted Lieu, labeled the entire House Republican Party "sick" for not joining Democrats in their effort to expel Gosar over his crude spoof.
Did Representative Ted Lieu, for example, consider Liberal Nutjob, Kathy Griffin a "sick" pariah? Did he call for her to be banned or censured or punished? In a word, no.
The resolution also strips Gosar of his main committee assignments which include House Oversight – which Ocasio-Cortez also serves on – as well as the Natural Resources Committee.
Two House Republicans joined the Democrats in censuring Gosar… Reps. Liz Cheney of Wyoming and Adam 'Cry-Baby' Kinzinger of Illinois.
When Any Nation Can No Longer Judge Between Good and Evil, Right and Wrong, and Light and Darkness, Its People Are Reprobates…
Here are some demons you may recognize. They are partners with ingratitude. These are Godward (repentance is an absolute necessity): Ingratitude to God Dishonor of God Rejection of God & His dealings with you Thanklessness Hatred Towards God Anger Towards God
Ingratitude to God Dishonor of God
Rejection of God & His dealings with you
Thanklessness Hatred Towards God Anger Towards God
Dishonor of God
Rejection of God & His dealings with you
Proud and arrogant and contemptuous boasters. Have you ever noticed who does the bragging and boasting? It is usually those who are attempting to cover their failures. Are they full of hot air? People who boast are really showing their rejection.
The control demon is called "Schizophrenia" or "Double-Mindedness". The Bible says, "A double-minded man is unstable in all of his ways" (James 1:8).
The phrase translated "two minds" comes from a compound Greek word literally meaning "two souls". The CEO's of Google ,Twitter and Facebook are  "Schizophrenia" or "Double-Mindedness"
I go back to my original statement in January, this is a "Pestilence", God knew evil men were in labs concocting a virus with the intention of harming humanity. SRH…
It's interesting to me you don't find the words plague(s) and pestilence in the New Testament under any context other than the judgment of God.  (In fact, for the most part, the context of those words in the Old Testament is also within the judgment of God.
Source: HNewsWire   HNewsWire   ZeroHedge   Reference
StevieRay Hansen
Editor,
HNewsWire.com
[email protected]
The worst-case scenario is outright civil war. This is too horrible to contemplate, but this possibility is real. Illegitimate President Biden said his patience is wearing thin. That works both ways. Things are getting tense in Tyrannical Australia. It could happen here, too.
Remember, the first people Hitler put in concentration camps weren't the Jews. The first people were the intellectuals, because if you take the intellectuals and the doctors off the street, if you stop people from talking, you can control the people.
The post Update: 11/15/22 Just as Luke 12:49 & Revelation Tells Us, There Will Be Great Division – Brother Against Brother, Mother Against Daughter, Son Against Dad, These Corrupt Politicians Will Literally Tear Each Other Apart appeared first on www.HNewsWire.com.
Click this link for the original source of this article.
Author: StevieRay Hansen
---
This content is courtesy of, and owned and copyrighted by, https://hnewswire.com and its author. This content is made available by use of the public RSS feed offered by the host site and is used for educational purposes only. If you are the author or represent the host site and would like this content removed now and in the future, please contact USSANews.com using the email address in the Contact page found in the website menu.