Are we on the verge of another bitcoin meltdown? … why our crypto experts are bearish … the results of a new investor survey reveal absurd expectations
There's an old joke on Wall Street that goes something like: "How do you lose 90%?"
"You lose 80%…and then watch your stock get chopped in half."
For example, say you buy a stock at $100 per share. To lose 90%, you could watch your stock fall by 80%, leaving the stock price at $20.
But then, just when you think the pain is over, that $20 per share price suffers a full 50% collapse, falling to $10.
On the whole, that's a 90% drop. But for any investors who believed the stock had bottomed at $20 per share and jumped in (or added to their position), they're now sitting on fresh 50% losses as the stock fell to $10.

The point is that a cheap-looking stock, or asset, can still inflict massive damage on investors because "cheap" can always become "much cheaper."
***As I write, bitcoin has lost more than 50% since last November
In recent weeks, its price has been rangebound, bouncing between roughly $29,000 and $31,000, as you can see below.
Source: StockCharts.com
This has some analysts wondering if bitcoin is finally carving out a bottom.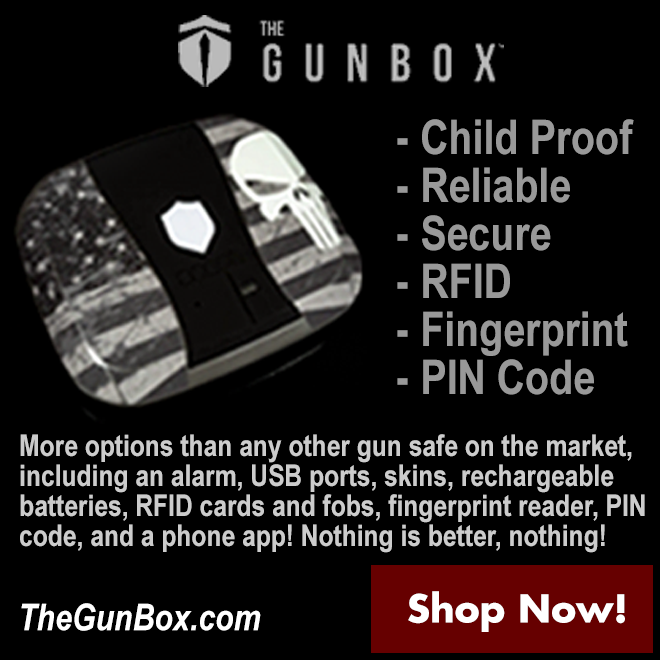 It's possible, but be careful.
If our crypto experts Luke Lango and Charlie Shrem are correct, despite the 50%+ haircut bitcoin investors have seen since November, we could be standing on the brink of a fresh 33% decline before we see the ultimate bottom.
Cheap can always become much cheaper.
Let's jump to Luke and Charlie's recent Ultimate Crypto update, talking about bitcoin's recent price action:
Technically speaking, we aren't liking what we're seeing.
Bitcoin continues to consolidate around the $29,000 to $30,000 level. This could be consolidation before a breakout. It is more likely consolidation before a breakdown.
The head-fake rally on Monday/Tuesday [from last week] lends credence to this idea that there really isn't much buying demand out there right now to power BTC back to $40,000.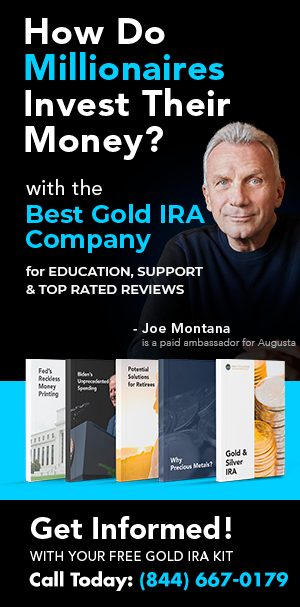 We see a drop to $20,000 as likely.
***If you know Luke and Charlie, they're incredibly bullish on the long-term growth story for bitcoin and a handful of elite altcoins, so what's behind this bearishness?
One major concern for Luke and Charlie is the recent de-coupling between bitcoin and technology stocks.
In 2021, investors treated bitcoin as an inflation hedge. As the 10-year Treasury yield climbed, so too did bitcoin's price. The opposite was true as well.
But as we moved into 2022, things changed. Bitcoin began behaving like a hypergrowth technology stock. In other words, investors saw it as a risk asset, so they began dumping it alongside their tech stocks.
To illustrate, below, we compare bitcoin to XLK, which is the SPDR Technology Select Sector ETF. For some context, XLK's top 10 holdings include Microsoft, Apple, NVIDIA, Adobe, and Cisco.
Here's bitcoin and XLK from the start of the year through the end of April.
Source: StockCharts.com
Yes, bitcoin was more volatile, but the two assets clearly share similar price action.
And in fact, over the entire four months, respective returns were nearly identical – bitcoin fell about 16.5%, while XLK fell roughly 18.5%.
But then came May and the de-coupling that Luke and Charlie have pointed out.
Below is how that looks. We're looking at bitcoin and XLK since the beginning of May.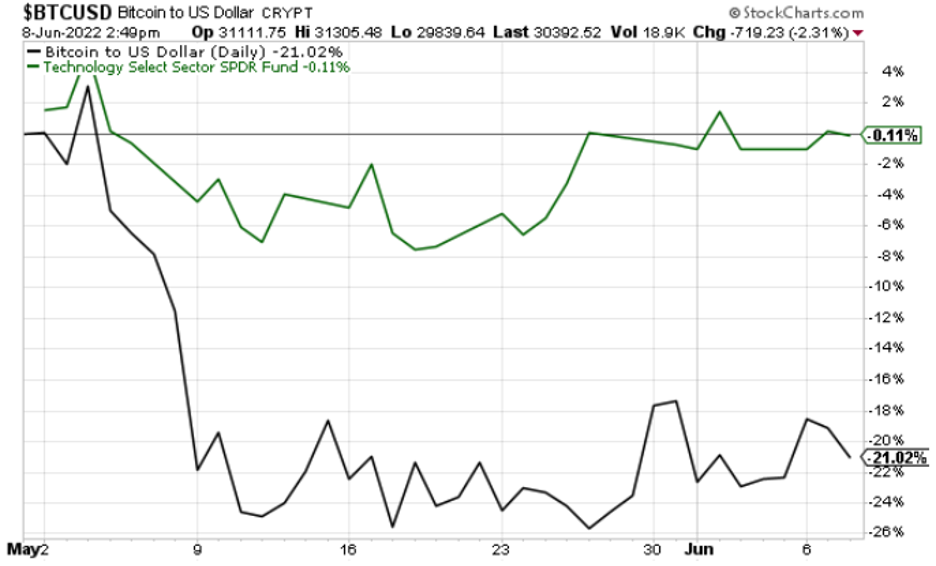 Source: StockCharts.com
If you're having trouble reading the chart, XLK has traded sideways. It's barely negative, down 0.1%.
Bitcoin, however, has lost another 21%.
Back to Luke and Charlie:
Meanwhile, the bearish de-coupling of stocks and cryptos continues. This de-coupling started with the Terra (LUNA) collapse, which shook confidence in the central decentralized finance (DeFi) vertical of the crypto ecosystem.
Since then, the de-coupling has grown worse. [Last] week, stocks staged a mini-breakout with some positive follow-through action, while cryptos staged a mini-breakout that was followed by an equally large breakdown to pre-breakout levels.
Adding insult to injury, recent news flow has been decidedly bearish.
There's been Coinbase with its hiring freeze and the rescinding of some job offers… there's Gemini cutting 10% of its workforce… the New York State Senate passing a bitcoin-mining moratorium… then there's news that overall VC investments in the crypto sector plummeted by nearly 40% last month.
***So, what do Luke and Charlie see coming for bitcoin and the altcoin universe?
Put next Tuesday on your calendar in order to hear it straight from them.
On Tuesday, June 14, at 7 p.m. ET, Luke and Charlie are holding a market briefing called Crypto in Crisis.
While I don't know exactly what they're going to discuss, I do know it's the not standard "this is a buying opportunity!" refrain you hear from some crypto perma-bulls.
Quite the opposite, in fact.
Here's Charlie explaining:
…We believe 98% of the cryptos in the world today are about to go to zero.
And this includes many of the most popular cryptos in the world today…
Cryptos that are widely held by millions of people.
We'll lay out everything during our Crypto in Crisis emergency briefing next week.
Now, even though the immediate perspective on the crypto sector is bearish, and more pain could be ahead of us, Luke and Charlie believe there's enormous opportunity on the far side of this crisis.
The challenge is not blowing up your crypto account in the meantime…and then being able to identify the altcoins that will become this decade's biggest winners after the smoke clears. That's part of what next Tuesday's event is about.
By the way, I'm told Luke and Charlie will reveal the name and ticker of an altcoin they believe will survive the sector implosion and go on to help create a new wave of millionaires.
It's a free event. Just click here to reserve your seat. If you're a serious crypto investor, this is a must-attend.
***Before we sign off, a quick note about return expectations
Based on past InvestorPlace analysis, the profile of our average Digest reader suggests an intelligent, informed investor, with above-average investment knowledge.
If only that were the case for the average investor.
According to a new survey from money-management firm Natixis, the median U.S. millennial investor expects their investments to earn – on average – 20% per year over the long term.
And by the way, that 20% return expectation is for real returns, which means on top of inflation. In today's climate, based on CPI data, that would mean about a 28% return.
And again, this expectation isn't for just one year – it's for every year, on average.
This unrealistic expectation isn't limited to millennials. Across all age groups, the average return expectation comes in at 15%.
For perspective, over the past century or so, the typical large-cap U.S. stock has generated only about 7% real returns (after inflation).
If we zero in on the 20 years ending on December 31, 2019, the S&P averaged just 6.06% each year.
And how did the average investor do over this same stretch?
4.25%.
That's not even a quarter of the average expected return of 20%!
To make 20% average returns year-in, year-out, you'd have to be one of the greatest investors of all time – literally.
The world's best-known investor, (and arguably one of the greatest ever), Warren Buffett, generated a 20.1% average return from 1965 through 2021.
But that average includes some monster winners from the early days of Buffett's career. Over the past 20 years, Buffett's average yearly return has been just 10.3%.
And yet, the average investor is going to 1.5X that return, while the average millennial investor is going to 2X it? And do so for decades?
Though I suspect the typical Digest reader's return expectation is far more reasonable, let's use this as a reminder that it's better to be conservative than aggressive with investment projections.
After all, 20 years from now, I think each one of us would prefer to discover we've hit our goals earlier than expected, rather than realizing our goals are nowhere in sight.
Have a good evening,
Jeff Remsburg
The post The Coming Crypto Wipeout appeared first on InvestorPlace.
The post The Coming Crypto Wipeout appeared first on NXTmine.
Click this link for the original source of this article.
Author: Jeff Remsburg
---
This content is courtesy of, and owned and copyrighted by, https://www.nxtmine.com and its author. This content is made available by use of the public RSS feed offered by the host site and is used for educational purposes only. If you are the author or represent the host site and would like this content removed now and in the future, please contact USSANews.com using the email address in the Contact page found in the website menu.